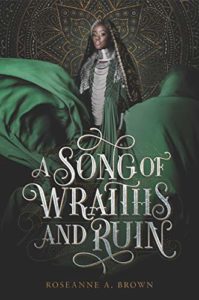 A Song of Wraiths and Ruin is the first book in a new duology by Roseanne A. Brown. The novel alternates between the points of view of Malik and Karina (is this my new favorite style?).
Malik has traveled to Ziran to make a better life for himself and his family. The only problem is that his people are hated there. He has to pretend to be from somewhere else in order to be accepted. When Malik makes a dangerous bargain with a spirit, he finds himself fighting to win a place at the princess's side. So he can kill her.
Karina, the princess, is brilliant, beautiful, and clever, but she's constantly in the shadow of her late sister, who should have been her mother's successor. Karina has plenty to prove to the people and herself when she is forced to oversee the Solstasia celebration, which happens only every 50 years. During the celebration, one champion from each alignment competes for a prize – this year, her hand in marriage (think Harry Potter and the Goblet of Fire, but even more death). Karina wants to get married. So she can kill her husband and complete an ancient ritual.
If that description alone doesn't have you hooked, then I don't know what will. Beyond the incredible plot Brown has crafted, you'll also fall in love with both of the main characters, neither of whom is perfect. Karina has splitting headaches and probably some PTSD from the deaths of her sister and father. Malik has crushing anxiety. Brown has written amazingly real characters, and when their weaknesses become their strengths, you will cheer.
This magical world is inspired by West and North African mythology, and you'll be astounded by the rich lore of this book. Brown packs more into this novel than other authors put in a whole series, but it's never overwhelming. You'll be obsessed with this realistic world filled with complex characters, fascinating history, and intricate magic. I couldn't put this book down, and I can't wait for the second one to come out.
Buy on Bookshop.org Buy on Amazon