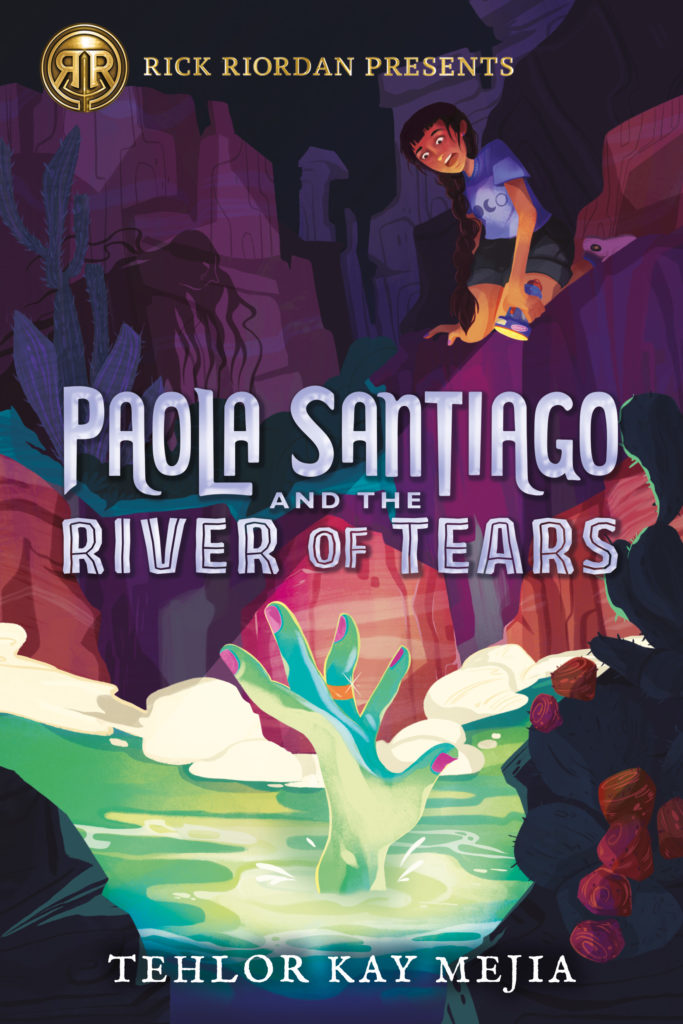 Paola (or "Pao" to her friends) has always been a woman of science. Take the recent drownings and disappearances near the Gila River: Pao sees the physics of currents while her mom suspects the work of malevolent spirits. Her mom always seems to suspect spirits are at work in one way or another – she's always burning candles or reading tarot cards. Pao, on the other hand, is skeptical of anything other than logical explanations. So when one of her best friends, Emma, is the next one to disappear by the river, Pao's determined to find one. What she uncovers instead is a world of monsters and magic – and La Llorona, a spirit who haunts the river crying for her drowned children.
As the latest release on the Rick Riordan Presents imprint, Paola Santiago and the River of Tears embodies the action, humor, and heart that we've come to expect from these myth/folklore-centered stories. And while this book is in fine company with the other books on this imprint, author Tehlor Kay Mejia makes this combination all her own.
There was so much I loved about this novel. I love that Paola is a young girl passionate about science and how Mejia handles depicting intersectional identity for young readers. Emma is rich and white, a difference Pao and her other best friend, Dante, feel keenly while attempting to speak to the police about her disappearance. Even at 12, Pao knows that the disappearance of a white girl gets a kind of media attention that the disappearance of a brown one wouldn't. At another crucial moment, Pao wonders if Dante isn't the one meant to be a hero, rather than her. He is, Pao observes, just like heroes in books, a mold she could never fit herself into – she's too angry and more used to exercising her brain than her brawn.
She knows, too, that her mother's belief in the supernatural is something white people will use as an excuse to dismiss or trivialize her – something Pao has vowed she will never allow to happen to her. But as she works to rescue Emma, Pao realizes that her cultural heritage is just as much a part of her as her love for science, and she must embrace both to save the day. Pao's quest, ostensibly, is to rescue Emma, but her journey to self-acceptance and empowerment is what I'm going to remember most about this book.
Mejia works all this and more into the fabric of her narrative, which I couldn't recommend more highly to readers of all ages.
A copy of this book was provided by the publisher for review.