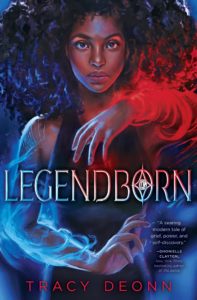 In Legendborn, Tracy Deonn weaves a tale of magic, romance, Arthurian legend, and motherly love. North Carolinian Bree just wants to escape her small town and start college early, despite what her mom says. When her mother is killed, Bree struggles to cope – until she realizes that the strange monster-fighting kids at her school might know more about her mother's death than she does. Bree befriends one of the students and recruits him to help her infiltrate the demon-fighting secret society so she can discover the secrets of her mother's past.
About three chapters into this book, I was hooked. After a few more chapters, I knew it was something special, and by the end, I realized this is one of the greatest YA fantasy novels I've read in a long, long time.
I honestly didn't know a thing about this book when I picked it up. I didn't even know it was Arthurian inspired, and that's one of my favorite genres! At first, as I read the book, I thought this would be a fun look into a college's secret order and that the other characters would help Bree deal with the grief of losing her mother.
This book is so much more than you might think (and not just because Deonn's writing is lovelier than poetry). Deonn uses complex magical systems and lore (impressive enough by themselves, honestly) to emphasize themes of racial injustice, power dynamics, and familial love. I've never read another YA fantasy that grapples with racial injustice and the impacts of slavery like this book does. I don't want to spoil anything, but the twist at the end is extremely powerful.
Not only will you fall in love with Bree (and William, and Alice, and probably either Nick or Sel but maybe not both?), but you'll become engrossed in the lore and legend of the book. I don't know what kind of magic Deonn has done to fit so much lore into one book while also giving us amazing characters, awesome action scenes, and swoon-worthy romance scenes, but I was not complaining. I couldn't put this book down (literally – I checked my mail while reading).
If you like Southern Black Girl Magic, Arthuriana, and fantasy, you need this book. I'll be thinking about it for many months to come and anxiously awaiting Book 2.