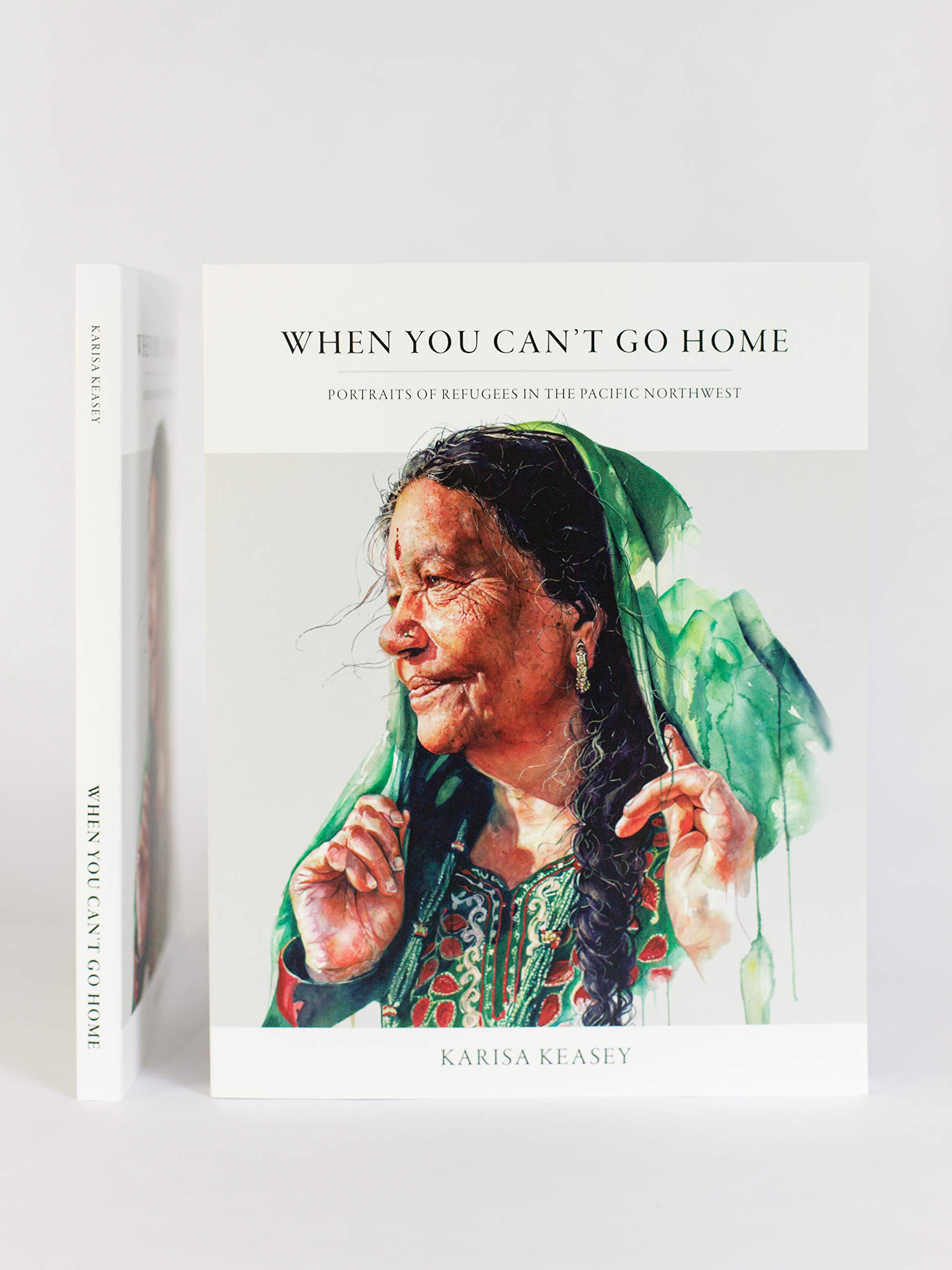 When You Can't Go Home: Portraits of Refugees in the Pacific Northwest, by Karisa Keasey, is a beautiful and bittersweet book. The paperback copy holds ten stories of refugee families living in the United States after being displaced from their native countries. The book is stunning, both narratively and visually, as gorgeous illustrations of Keasey's subjects accompany each tale.
In the author's note, Keasey sets an urgent tone: "We're facing the world's biggest refugee crisis since World War II." After Keasey became aware of the humanitarian crises that are driving people from their homes, she struggled with what to do next. I relate to the author: I also feel powerless in the face of the tragedy I see on the news and in my communities. Keasey writes, "We can fight the temptation of apathy through humanizing our global neighbors and through engaging in practical advocacy."
Keasey's practical advocacy shines through in her storytelling and illustrations. She weaves quotes from her subjects into short yet powerful vignettes, accompanied by paintings full of life. The refugees featured in Keasey's book have faced insurmountable challenges, such as religious persecution, genocide, terrorist organizations, and war. I found myself shocked that these families survived the journeys that brought them to the United States. As I read, I thought about how this book could be a tool for cultivating empathy in those who don't know or care about the refugee population in their communities. The title itself calls readers to consider, what would you do if your home became too dangerous to return to?
Keasey's subjects speak so candidly of the loss they felt in leaving their homes, and it made me think about all the comforts of my life that I take for granted. The fact that so many refugees find safety in my home country makes me aware of my immense privilege as a native citizen of the United States. To me, this book is for all so-called "first-world citizens" who struggle to empathize with people who don't look like them. The book's theme is something I imagine everyone can relate to in one way or another: a person's home is an integral part of their identity, and everyone has a right to safety.
When You Can't Go Home was written in partnership with World Relief, a humanitarian organization that provides remarkable support to refugees in America. World Relief provides services like legal support, English classes, job training, and resettlement outreaches, which help tend to the basic needs of those making a new start in America. Fifty percent of the proceeds from the book will go to World Relief. I volunteered with World Relief briefly as a student, and I believe in the work they do. And while I would never seek to discredit the integrity of World Relief, they are an organization based on the tenants of Evangelical Christianity, and it is clear that this book was written through the lens of this faith. This is not necessarily a detriment or credit to the book's value, but this reviewer found it worth noting.
As an American reader, I was curious about how countries mentioned in this book, like Ukraine, Rwanda, and Bhutan, fell into their unique humanitarian crises. The book's genre, quick and readable vignettes, doesn't necessarily allow for this sort of history lesson. From my perspective, some valuable information may be left out of these countries' representations, potentially aiding in attitudes of hostility and prejudice toward these nations instead of inspiring inclusivity or curiosity about these nations.
When You Can't Go Home is thought-provoking and inspiring. After finishing the book, I found myself asking, how can I use my talents to contribute to human rights causes? While all these stories from refugees have happy endings, I am compelled to think of the hundreds of thousands that do not. Thankfully, the book provides helpful information on how you can get started helping out refugees in your community – spoiler alert: there are so many ways to get involved!
A copy of this book was provided by the publisher for review.