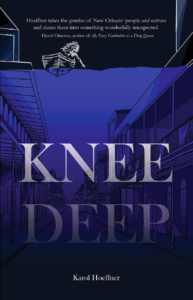 Named after a hurricane, Camille is the rebellious 16-year-old daughter of a New Orleans bar owner. Growing up in the shadow of Bourbon Street, Camille was raised on stories of hauntings, lusty encounters, and voodoo magic. In Knee Deep, Karol Hoeffner takes us on a journey through the catastrophe of Hurricane Katrina in 2005, as seen through Camille's eyes. A story of love and loss, this Mardi Gras story shows us that sometimes, the worst storms come long after the wind has died down.
I am constantly enchanted with the magic of New Orleans and the secrets that seem palpable in the air as you walk down the street… not that I have ever been there, but Hoeffner makes me feel like I have. The imagery of Knee Deep is a journey all on its own and was a highlight for me throughout this book. But what else can you expect from an author who has made her home screenwriting in Hollywood?
The idea of this book was very promising. I was only 12 when the catastrophic hurricane hit New Orleans, but I remember the devastating aftermath. A character like Camille really put things into perspective and made it seem a lot more personal. We saw how Katrina impacted millions, but just focusing on the fictional Camille and her circle of family and friends really made the whole event seem much more significant. Reading her individual account was more personal and meaningful, even if it was fictional.
(There are some spoilers below!)
Speaking of Camille, let's talk about her. I always find it interesting when I don't like the main protagonist of a book. I don't know if that was the intention, but I found Camille whiny and selfish. Crushing on her long-time neighbor Antwone (who is already in a relationship), Camille naturally has a freak-out when she can't find him after the storm. That makes sense for a 16-year-old girl, but what was off-putting was that Camille was so self-centered that it made it difficult to root for her. Deeming herself special when she starts to see visions of Antwone, Camille embarks on a journey to save him by making a deal with a dead voodoo queen. I do think that many will relate to Camille and her plight, even if I didn't. How quickly we forget what it's like to be 16!
Antwone's ghost claims he is in love with M-, his girlfriend, but also can't help his attraction to Camille. Antwone's spirit also occasionally inhabits the body of Camille's gay best friend, causing confusion and discomfort for everyone – especially once they get caught kissing. Camille's sole purpose becomes to save Antwone, despite the fact that a major disaster has just left millions homeless. I always felt like I was missing something, and perhaps there is a metaphor that I just didn't catch on to.
There are also references to pop culture that seem a little out of place, for example, the mention of Facebook. Facebook was created in February of 2004, but it was not opened to the general public until 2006. There is also mention of Lady Gaga, but her first single didn't come out until 2008. Just little things like that really stuck out at me.
A prevalent theme in Knee Deep is racism and inter-racial relationships. Camille is white and Antwone is described as "a light-skinned black man with eyes as green as the reeds sprouting on the banks of the mighty Mississippi." M- is also Black. This causes a lot of tension throughout the story, especially between Camille and M-. Camille is often faced with her white relatives using racial slurs and is surprised when even Antowne's grandma, whom Camille is close with, states that a Black man and white woman can't be together:
"It's just not right," Bama said, finally.

"What's not right?" I asked.

"For a black boy to be involved with a white girl. Or vice versa," Bama said. "Both you and Antowne were raised better than that."
New Orleans is a melting pot of cultures, and for someone like Camille, who grew up in such a diverse place, naturally, this was hard for her to hear. Even the people closest to her held prejudices and biases based on race. M- said it best when confronting Camille about her relationship with Antwone:
"I get it. But just because I'll never understand what it means to be black—"

"Damn straight. And you shouldn't waste time trying. You wanna do something constructive? Think about what it means to be white, to take all that privilege for granted. Don't dwell on what is taken from us on a daily basis but think about what has been given to you without asking. Sit on that awhile."
Powerful words for a powerful story.
Overall, I loved the story of this book. I am all for a good love story, and even though I didn't like her, Camille's heart was in the right place. Knee Deep shows that we have to move forward, no matter how hard it is to leave behind the ones we love. Life is complicated; death is complicated. Knee Deep makes you consider who and what is important to you. Would you make a deal with a voodoo queen to bring back the one you love, no matter the cost? When you have lost almost everything you own, what would you do to save what you have left?
If you like female leads, some voodoo magic, New Orleans, and some food for thought, I recommend Knee Deep as a tale of loss and personal growth.
A copy of this book was provided by the publisher, Regal House Publishing, for review.