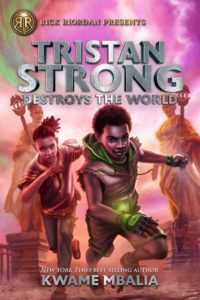 It's been only a couple of weeks since Tristan returned to his grandparents' farm in Alabama after saving Alke, a world inhabited by heroes of African American folktales and West African gods. He knows that as an Anaseem – a storyteller with special powers – he has important work to do collecting the powerful stories that fuel Alke, but being a hero doesn't feel like he imagined it would. Tristan is still plagued by nightmares about the Maafa, the haunted ship that is a manifestation of the pain of slavery's past, and his confrontation with King Cotton, the evil haint he accidentally released into Alke when he arrived there the first time.
Just as he's beginning to realize that his grandmother might be able to help him work through these experiences – that he might not be the first Strong to visit the realm of Alke – she's kidnapped by the Shamble Man, a mysterious villain determined to take revenge on Tristan for the destruction King Cotton and the Maafa wrought. To save her, he'll have to learn to control his Anaseem powers and face up to those memories he most fears.
I was so impressed by the first book in this series, which is both a riveting adventure and a vital articulation of how the legacy of slavery continues to cause harm. The second installment continues to weave together important concepts – like trauma and the African diaspora – with the mythology-infused narratives that are the hallmark of the Rick Riordan Presents imprint. I am so impressed by the way Mbalia weaves these elements into his storytelling. "Didactic" is often a word used to disparage children's novels when we think the lessons young readers can learn from their pages are too overt, but, like many other short-hand criticisms, we usually object only when an author does it poorly – Mbalia does it masterfully. Unlike the myths featured in the Percy Jackson series, which made Riordan famous, the history Mbalia is grappling with is very much alive in the present day, and its foregrounding is necessary both for those who know it all too well (and yet rarely see it depicted in literature) and those whose privilege has kept them insulated from it.
Mbalia's trick is that the important history he imparts is not secondary to exciting action scenes or the plentiful comic relief to be found here. Rather, they all are different sides of the same story – one that young readers will devour. Fans of the first book will enjoy revisiting places and characters introduced in the first novel, and the narrative's conclusion sets us up for what is sure to be an incredible third and final volume in Mbalia's trilogy.
A copy of this book was provided by the publisher for review.