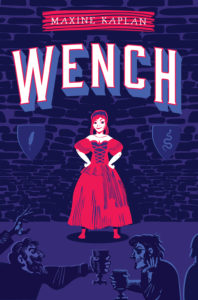 Move over, Dorothy and Toto. There is a new book out about a girl who has to go on an adventure to the big city to return home. However, Wench, by Maxine Kaplan, is a much different story than The Wizard of Oz. Wench is a feminist, YA, action-packed adventure story, with so many unexpected plot twists that it'll leave the reader unable to guess what will happen next.
The story begins in a fictitious town called Griffin's Port, at the Smiling Snake tavern. Tanya, the tavern's wench, has successfully run the Smiling Snake for years – despite what the paperwork says. But when the tavern's "real" owner dies, Tanya has no way to prove she is the rightful proprietor. In order to reclaim the Smiling Snake from military squatters, Tanya must go to the capital and speak to the Queen.
So that is precisely what she does. Along the way, she befriends a persnickety horse, military division members, and strong women in charge of their own lives. Tanya also runs into outlaws and magicians who, much to their detriment, try to take advantage of her. Tanya also comes across an enchanted feather that changes her life because of its magic. The feather's powers lead Tanya to experiences she never thought she would have, including meeting and befriending the Queen. The Queen sets Tanya on another journey, wherein Tanya learns more about the world around her, including magical and political power, and most importantly, about what she can accomplish.
Kaplan writes about magic in a way I had never seen before. But be warned this novel has forms of magic that involve self-harm. I also appreciated the novel's powerful and memorable characters, especially women. As someone who has dealt with rude customers in foodservice jobs and is working in a profession dominated by men who question my abilities, I certainly related to many of the women in the book.
I think anyone who has worked in the retail, hospitality, or food industries will appreciate the way Tanya gets her revenge against customers who are rude to her, reclaiming the title of "wench" for heroines everywhere. I enjoyed this book, and I think teenage girls will also benefit from reading about a strong woman who takes her life into her own hands and does what she wants, not what people expect.
A copy of this book was provided by the publisher, Abrams/Amulet, for review.