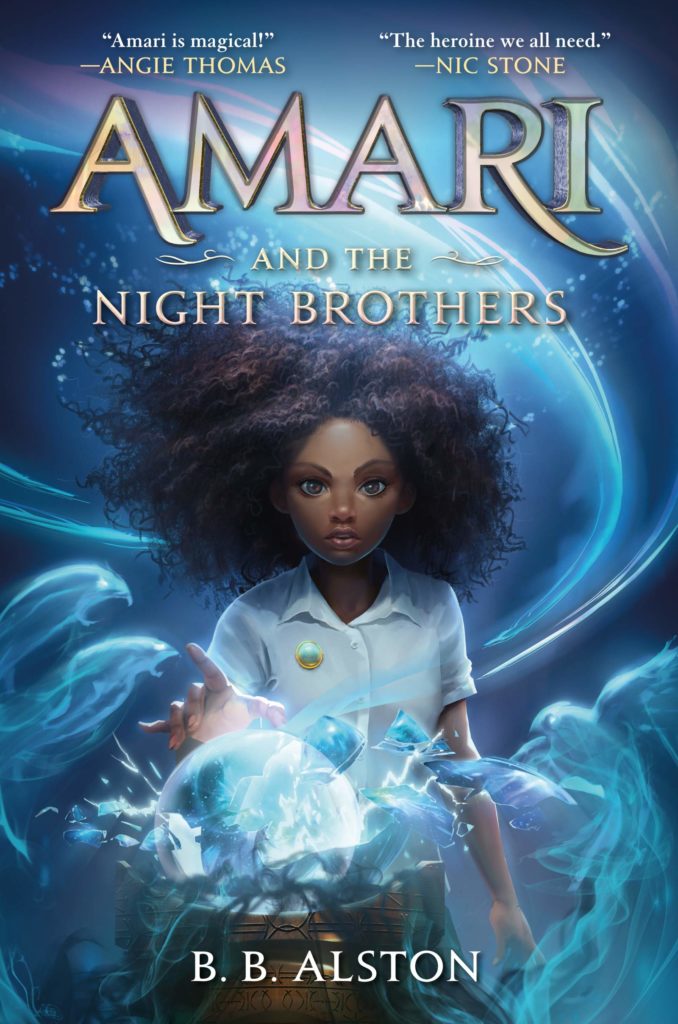 Amari Peters's life was upended when her older brother, Quinton, went missing. Six months later, the police have stopped looking and just assume that Quinton, a kid from the projects, disappeared because he was involved in something illegal. The kids at Amari's private school, who relentlessly bully her, joke that he is dead, and when Amari stands up to them, the school revokes her scholarship.
But Amari refuses to give up hope that her brother is out there, waiting to be found. She is convinced that his disappearance has something to do with the top-secret job he took right out of high school, a job that the police don't believe even exists. Then, a mysterious briefcase shows up in Quentin's closet, addressed to her and containing a note from Quentin himself, along with an invitation to a magical summer camp at the Bureau of Supernatural Affairs. The contents of that briefcase are Amari's ticket to the strange, fantastical world hidden just beneath the surface of her old reality, and her best shot at bringing Quinton home.
Amari quickly realizes that the supernatural world, magical as it is, is not so different from the world she left. In the face of danger and prejudice, and with the help of a few good friends, Amari is determined to find her missing brother and to prove everyone who ever dismissed, belittled, and underestimated her wrong.
Amari and the Night Brothers is an engaging read from the very first page. Amari is a brilliant, headstrong, and lovable character. I felt Amari's fury at the injustices she faced, her grief over her missing brother, and her love for her friends and family. It is a joy to watch her hone her talents, outperform all those who doubt her, and grow more confident in herself. The other characters we meet are just as well-developed and interesting, from Amari's mother to the friends and foes she finds at the Bureau. Elsie, in particular, stood out to me not just as a loyal friend to Amari but a brilliant, brave, and kind person in her own right.
At the Bureau, Amari tries out for junior agent, the position her brother held at the Bureau. She figures the position is her best chance at finding her brother but also wants to prove that she is more than what her detractors assume her to be and more than deserving of this coveted position at the Bureau. Amari thrives in that challenging environment, despite being ostracized by almost all her peers. The series of trials she goes through, tests of her supernatural knowledge and abilities but also of her logic and heart, was one of my favorite things about this book.
The book begins with Amari determined to find her missing brother, but as her world gets more complicated, so does the mystery at the heart of the story. Every time I thought I had figured out where the story was headed, something unexpected happened that threw everything into question. By the time I was halfway through, this book had me on the edge of my seat. I couldn't read fast enough! This first book ends after a shocking final twist but leaves plenty more mysteries to be explored in the books to follow.
With Amari and the Night Brothers, B.B. Alston has created something truly special, a captivating story for all ages but especially for young Black kids who see themselves in Amari. Amari is an empowering protagonist, and her story is a reminder that the world around us and the people in it are more than we assume them to be.
A copy of this book was provided by the publisher, Balzer + Bray (an imprint of HarperCollins), for review.