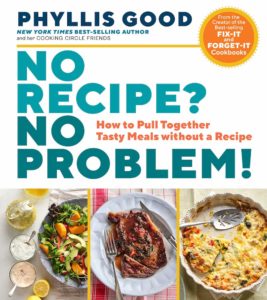 I consider myself to be a pretty good baker. I can bake you any shape or flavor of bread that you want, can make layer cakes and dessert all day long, and have been told that my brownies are the stuff dreams are made of. But cooking? Unless I have a very specific recipe, forget about it. Especially now that I am a single 30-something, cooking for me is tossing a salad together and having an open-face tuna melt on homemade sourdough. Sometimes I will make my favorite chicken herb risotto, but that is the extent of my creativity. Thankfully, No Recipe? No Problem! has a plan to help.
The book is sectioned out by the type of food the reader would like to make or has on hand in the home. Chapters such as "Vegetables," "Salad," "Pizza," and "Eggs" are just a few of the many offerings No Recipe? No Problem! includes. Since eggs are my favorite food (particularly local ones from my parents' beloved hens), I was going to skip right to that chapter… but not after a quick glance at the pizza section. There is a recipe for watermelon pizza that is honestly so genius that if I weren't allergic, I would give it a try.
Each chapter starts out with a few "essential" lessons that are needed in order to cook with the foods within. For eggs, that includes methods such as frying, scrambling, and hard cooked. Then we get into the accompanying ingredients, things that go deliciously well with an egg, such as leeks, greens, tomatoes, and so on. I didn't personally find anything overly inspiring in this chapter, but I cook and eat eggs nearly every day, so I am likely not this particular chapter's audience.
The very last chapter, "Toast Toppers and Their Cousins," is probably my favorite. I always have sourdough in the house, and as I mentioned before, at least one night each week, I have an open-face sandwich of some kind. Some of the combinations that are suggested sound amazing, and I truly cannot wait to try them.
All in all, I think No Recipe? No Problem! has a lot of fun and inventive ideas to ensure that the bag of spinach we all have in the crisper doesn't go to waste.
A copy of this book was provided by the publisher, Workman Publishing, for review.