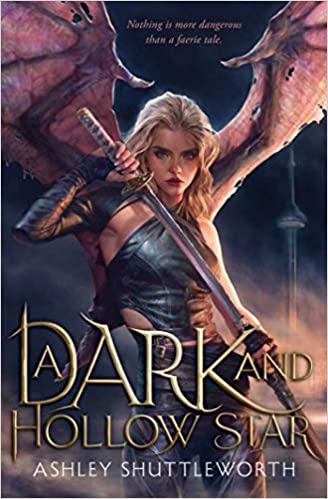 For as long as anyone can remember, the Eight Courts of Folk have lived among mortals, concealed by magic and forbidden to do any harm to humans. The peace in the Courts has lasted for centuries until a series of horrible and ritualistic murders shakes the city of Toronto. These murders threaten to expose faeries to the human world.
Four queer teens, Nausicaä, Arlo, Vehan, and Aurelian, each hold a piece of the truth and must form an alliance in order to track down the killer behind these crimes. They must not fail, or the destruction of both the faerie and human worlds will be imminent.
Note: There are trigger warnings associated with this book, including blood/gore, body horror (minor), death of a child, depression, human trafficking, stalking, suicide (past, off-page), suicidal ideation, toxic relationship/manipulation, trauma/PTSD, racism, and violence/gun violence.
A Dark and Hollow Star, by Ashley Shuttleworth, is a young adult fantasy novel filled with LGBTQ+ characters, an intriguing plot, and immersive worldbuilding. This is Shuttleworth's debut novel, which I wouldn't have guessed because the writing style is exquisite. This novel follows four teens: Nausicaä, a Fury who was banished from the Immortal Realm centuries ago and who is seeking revenge; Arlo, an ironborn half-fae who doesn't fit into the mortal realm or fit in with her royal fae family; Vehan, a fae prince determined to prove that he belongs on the throne; and Aurelian, Vehan's mysterious guardian burdened with a secret. These four main characters are relatable, well developed, and fleshed out; they each have their own distinct personalities and quirks.
I was left guessing who the killer behind the murders was throughout the novel, along with following the clues Shuttleworth kept leaving in each of the characters' points of view. It wasn't until all four teens met up that the puzzle pieces fell into place at the climax of the novel. I enjoyed figuring out the motive and who was really behind these murders, as there were false leads throughout. I really enjoyed this book and the various fandom connections made throughout, such as to Harry Potter, Lord of the Rings, and towards the end of the novel, Dungeons and Dragons.
A Dark and Hollow Star is full of magic and mystery. Shuttleworth crafts a magical world right in Toronto and makes it so believable and realistic, you would think fae exist. This is the first book in a series, and I cannot wait to see what the author has in store for Nausicaä, Arlo, Vehan, and Aurelian. I look forward to continuing on with their journey. This is a book that will stick with me for a long time.
A copy of this book was provided by the publisher, Simon and Schuster, for review.