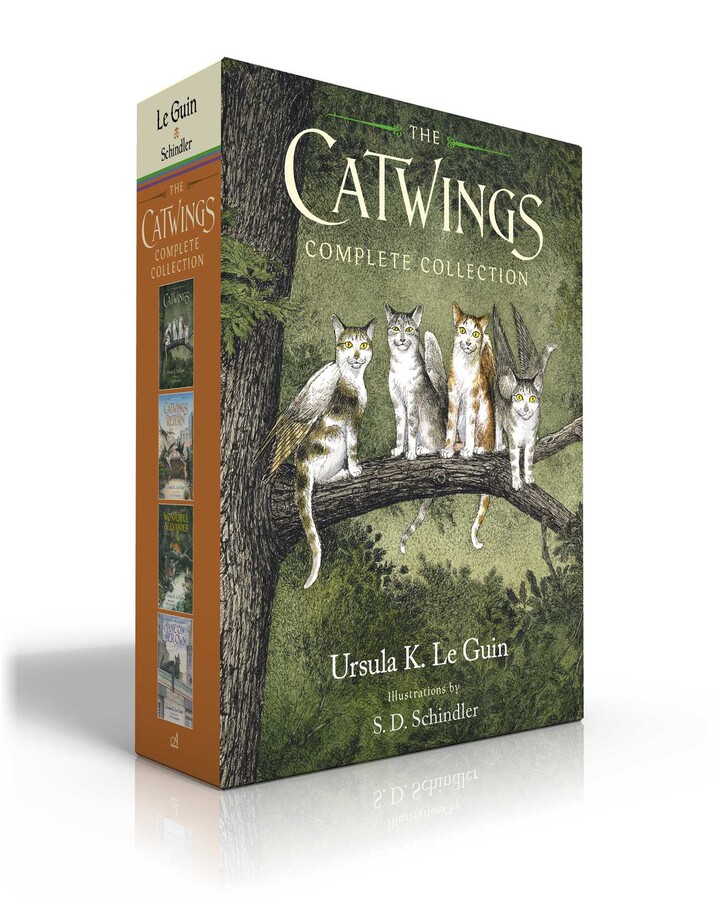 As a fan both of cats and of renowned science fiction and fantasy author Ursula K. Le Guin, I had long been aware of her early reader Catwings series but had never read it. Simon & Schuster's new hardcover box set of all four books (Catwings, Catwings Return, Wonderful Alexander and the Catwings, and Jane on Her Own) gave me the perfect opportunity to indulge my love of both felines and Le Guin.
The four books, all charmingly illustrated by S.D. Schindler, recount the adventures of the Catwings – four kittens born with wings. First, we follow them as they leave the city streets of their birth to seek a safer, calmer home in the country. In the next volume, two of the clowder make an eventful journey home to visit their mother (a perfectly normal alley cat) and discover a new winged sibling along the way. The third installment finds the Catwings befriending "Wonderful Alexander," a charming (though wingless) cat who has wandered too far from home. In the final book, Jane – the youngest Catwing – strikes out on her own to find her place in the world.
This series is gentle enough for the young readers who are its target audience (the scariest part is a close encounter with an Owl). Its doses of reality (yes, there are people out there who would seek to profit off such a remarkable thing as a Catwing; yes, animals who live on city streets face hardship from the dangers of their urban environment) only serve to heighten the effect of Le Guin's fantasy. The Catwings seem as though they might really live in our world – perhaps, one day, we'll be lucky enough to see one.
But there's really no sense in overanalyzing this simple piece of mastery. These are deft little tales about cats with wings, and for those enticed by that description, there's really nothing more you need to know. The new box set is sturdy, likely to withstand eager little hands and look appealing on a bookshelf. If you're waiting, as I was, for the perfect moment to dive into Catwings, this is your sign!
A copy of this set was provided by the publisher, Simon & Schuster, for review.