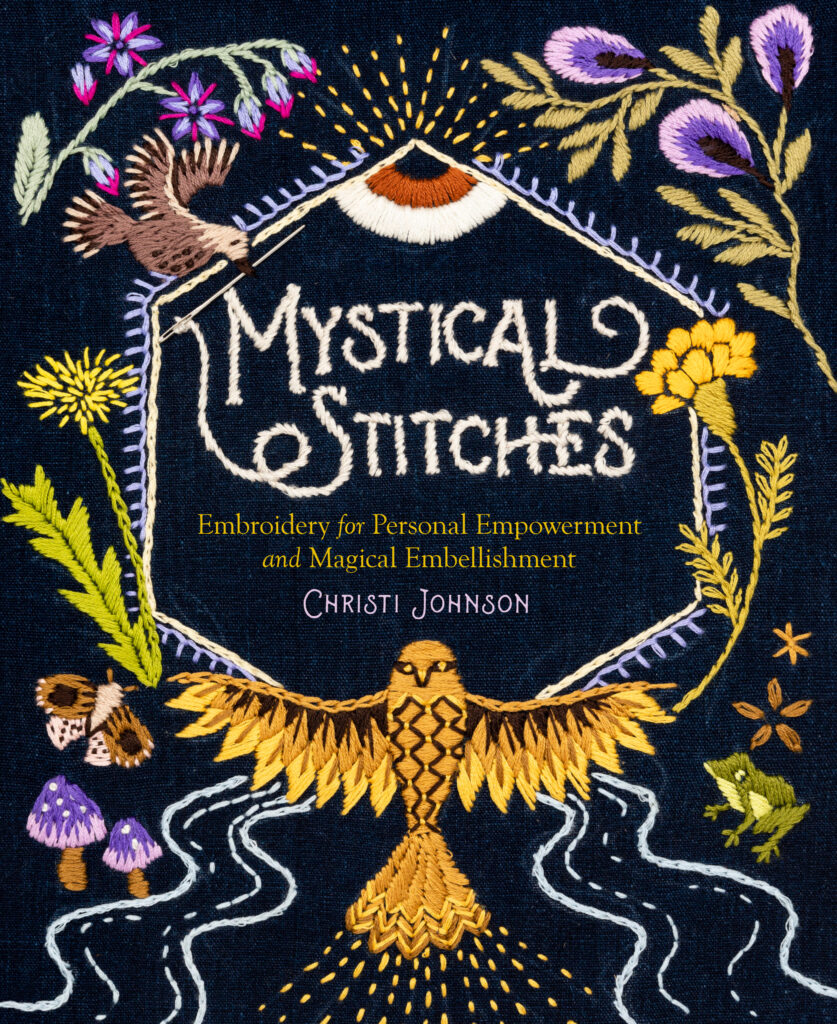 Quarantine has given us all time to adopt some new hobbies. One of mine? Embroidery. I'm still very much a beginner, and I don't always feel very creative or capable with this art form. Christi Johnson's Mystical Stitches is the perfect book for any embroiderer, whether you're new and insecure like I am or have been stitching for years. Mystical Stitches doesn't just show you how to do tons of stitches and give you a few patterns like other embroidery books do. It also discusses myriad different symbols, their history and meaning, and how they can help focus and influence your life. Johnson gives clear suggestions and helpful tips on how to tap into your creative side and design your own embroidery projects, and she inspires confidence in you all the way through.
Mystical Stitches starts off with a discussion about intention, talismans, and getting in touch with your creative side. I'm a spiritual person, and I love all the intention, manifesting stuff, so I really enjoyed this section. Johnson did a great job of showing how these more spiritual, mystical beliefs and practices can be implemented into your daily life through embroidery.
Like other embroidery books, this one does have chapters dedicated to embroidery materials and various stitches. I appreciated the recommendations for different materials, and there were some technical stitching tips that were a huge help in making my work look more professional. There were even descriptions and instructions for stitches I had never heard of, and I've been having a really fun time trying them out.
The bulk of the book deals with various symbols – from numbers to plants, mythical creatures to planets, the zodiac to geometric shapes, and a ton more. I really enjoyed going through these symbols; each had an example of what the embroidered symbol might look like (the pictures and overall book design are gorgeous!) as well as a short description of the symbol's meaning. It's very much an introduction to these symbols and their meaning, so if you're looking for an in-depth explanation, this isn't the book to go to. I loved how you can easily glance through these to quickly find symbols that resonate with you.
The thing that I really loved about the whole book was that Christi Johnson exuded confidence in me the entire time. I don't think of myself as a creative person, and doing artistic things tends to stress me out. I started doing embroidery because I wanted to tap into my creative side with help from things like embroidery patterns.
Johnson doesn't give you actual patterns to trace, but pictures and simple stitching instructions for all the symbols are given at the back of the book. At first, I was annoyed by this because of my lack of confidence in my creative ability, but Johnson helped me realize that I don't need those patterns and instructions. She brought out my creative side and helped me believe I could design my own projects. She's almost like a parent, guiding the reader but letting them try things on their own. She gives useful tips on things like the color wheel and new ways to do various stitches that create slightly different textures. All of this was the perfect amount of direction and guidance for me to feel like I had enough tools to create things by myself instead of relying on someone else's ideas and instructions.
Whether you're looking to start embroidering, need some inspiration, or need to boost your confidence, Mystical Stitches is the book for you.
A copy of this book was provided by the publisher, Storey Publishing, for review.