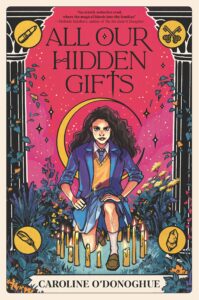 When Maeve Chambers finds an old tarot deck while cleaning out the school basement, she doesn't expect to feel so immediately connected to the cards. After all, she's used to being the "thick" one in her family, steadfastly unable to memorize Italian vocabulary or excel in other areas like her siblings. With tarot, it's different, almost instinctual. Pretty soon, she's giving readings to giddy girls all over school and exploring ways to cultivate her witchy persona. But when she's coerced into giving a reading to her ex-best friend, Lily O'Callaghan, it all starts to feel a little more real – the reading ends with Maeve wishing Lily would disappear, and two days later, she does.
Even with all the adults in Maeve's life assuring her that Lily will turn up, Maeve senses that something otherworldly is at work, something to do with the mysterious Housekeeper card that sometimes appears in readings even when she knows it wasn't there before. Can magic be real? If Maeve used it to send Lily away, can she use it to get her back? Maeve's new friend Fiona, an aspiring actress, and Lily's older sibling Roe (who fronts a band and has great taste in nail polish – very crushable, trust me) round out the cast of this absorbing novel set in contemporary Ireland.
The resurgence in popularity of crystals, tarot, and modern-day witchcraft seems like a match made in heaven for the YA genre, but I was blown away by how good All Our Hidden Gifts is. Author Caroline O'Donoghue writes with a real respect and understanding of these traditions, including how young women can use them to focus and draw on inner strength. It didn't feel hokey and it didn't feel like a ploy; it felt, well, like magic.
Building on that foundation is O'Donoghue's vividly drawn quartet of young people: Maeve, Lily, Fiona, and Roe. Each felt vibrant and alive, and I loved their collective chemistry (even when they're all kind of mad at each other). Maeve may be at the center of this book, but it's definitely not the kind of novel where there's one special "hero" and a band of sidekicks. I got the sense that any of these four could have been the central character, and there still would have been a way for the story to work.
I also enjoyed the way the author wove the story of Lily's disappearance and Maeve's burgeoning power together with contemporary social issues in Ireland, including LGBTQ+ rights, and with the country's recent history, which added new dimensions to an already compelling narrative. I guess it's not really a surprise that O'Donoghue can write so well about her home country, but it was appreciated nonetheless! (Think Derry Girls but with magic.)
All Our Hidden Gifts is the best YA novel I've read in quite a while – I definitely recommend giving it a try!
A copy of this book was provided by the publisher, Candlewick, for review.