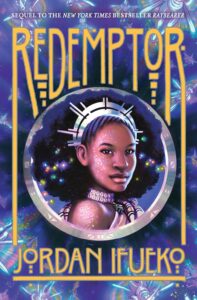 It's been a year since I had the pleasure of reading and reviewing Jordan Ifueko's bestselling debut novel, Raybearer. After much anticipation, the sequel, Redemptor, is here at last.
In Redemptor, Tarisai traverses uncharted territory as the first female empress in 500 years. Tarisai is a young Black girl who continues to challenge traditions and question everything and everyone. She believes in justice, even if it means breaking the rules. As Tarisai learns to navigate her new role, she also faces the immense challenge of completing her Ray and upholding her promise to sacrifice herself to the Underworld as an act of redemption. She is determined to set right the wrongs of her ancestors' mistakes, even though it means risking her own life in the process. While she is dealing with these stressors, new and mysterious people begin to seek her out.
I immediately fell in love with the story of Tarisai when I first read Raybearer last year. I loved the worldbuilding, the characters, and the plot. I was thrilled when I found out that there was going to be a sequel. Redemptor was worth waiting for! Jordan Ifueko's Redemptor is incredibly imaginative and well written. The story instantly transported me right back to where Raybearer left off. The dynamic characters pull at my heartstrings. The story is incredible and highly original. Raybearer and Redemptor are two of the best fantasy books I have ever read.
A copy of this book was provided by the publisher, Amulet Books, an imprint of Abrams, for review.