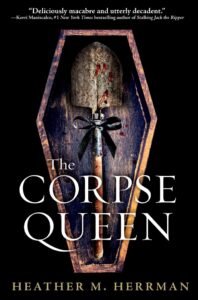 From YA horror author Heather M. Herrman comes her second novel, The Corpse Queen.
Though Molly Green has heard the rumors of a Corpse Queen stalking the streets of 1800s Philidelphia, she never thought she'd see the proof. But when her best friend, Kitty, turns up dead and with her vestigial tail cleanly removed, Molly knows she's found the proof of the Corpse Queen's existence. Knowing the only other person who knew about Kitty's tail was her lover, a medical student named Edgar, Molly vows she will find him and kill him. So when an aunt she didn't know she had asks Molly to come live with her and help source corpses for an anatomy class, Molly knows this is her chance to make good on that vow.
This was a dark book! I don't know what I expected with a cover and a description like this, but there were definitely some gruesome moments that took me by surprise. I liked Molly – she's quick, reserved, and curious in a way that I felt was easy to relate to. Sometimes too much determination in a character can be a bit off-putting. As an emotional person myself, I know I would flounder in some of the more demanding circumstances. This is especially true when they are flung upon Molly with no warning. But Molly is well balanced – she doesn't take absolutely everything in her stride. In fact, she bungles her first job. She loses her cool and forgets to act as the wealthy lady she's supposed to be, and when she discovers she's been carrying a severed human head, she, understandably, is swamped with total panic. She does find the courage and even a kind of pride in her new work as the story progresses, but it feels natural to her and to me as a reader.
The subject and setting of the book were a pleasant surprise to me – I haven't read many books set in the Victorian United States, nor do I know much about the medical practices of the time. Even when Molly is among the glittering wealthy, there is a feeling of darkness, of decay that permeates it all. Herrman successfully criticizes the performative philanthropy of the upper crust. Molly, as someone who grew up in poverty and the soul-crushing world of a Christian-run orphanage, is an interesting lens to look at the world through. She wants to be comfortable, and she fits in well to a world where luxury is a given. But she's never allowed to forget the realities of poverty – both because of her work, which exclusively involves the bodies of the poor and the unconnected, and because her upbringing is part of who she is.
One of the things that I loved most about this book was the ending, though I won't spoil it for you here. I will say that there were multiple points at which I thought I had it all figured out, but The Corpse Queen consistently surprised me each time.
If you're a fan of the dark and macabre, of stories that dig into the earthy underbelly of society, then you should snag yourself a copy of The Corpse Queen. I'll leave you with one of my favorite quotes:
But love was not a corpse; it was a flame. It could not be chopped up and displayed on a shelf. It could not be preserved and kept forever safe. Trying to shove fire into a jar would simply put it out. (The Corpse Queen, 350)
A copy of this book was provided by the publisher, Putnam, for review.