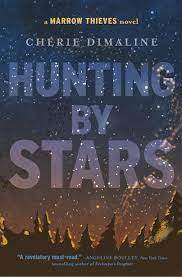 CONTENT WARNING: Both this book and this review talk about the topic of residential schools, which may be distressing to some readers.
Cherie Dimaline's highly anticipated follow-up to The Marrow Thieves comes out today, and boy, does it live up to the hype. The Marrow Thieves has been one of the top-selling Canadian novels for young adults since its release in 2017 and is much beloved by teens and adults alike, all over the country. I have no doubt that Hunting by Stars will be another smash hit.
If you haven't had the chance to read The Marrow Thieves, it's the story of Francis (French or Frenchie to his family) in the not-so-distant future. A plague of dreamlessness has spread across a climate change–scorched North America, affecting everyone except for Indigenous people. Determined to find a cure for themselves no matter what the cost, the Canadian government has begun gathering up Indigenous people to harvest the marrow from their bones, which the government believes holds the cure to White people's suffering.
Hunting by Stars picks up a matter of days after The Marrow Thieves leaves off. Frenchie continues to be the main character, but this time, we also get the perspectives of many other characters in the story, as circumstances have required Frenchie's found family to set off on separate paths.
At the start of the novel, Frenchie awakens in the pitch dark and knows immediately that he has been captured and taken to one of the new residential schools – the places where Canadian officials have been imprisoning, torturing, and harvesting marrow from Indigenous people across the country. It is quite literally one of Frenchie's worst nightmares, and for good reason. It's hard not to go into spoilers for this book, as the events that Frenchie experiences are explosively destructive, and the choices he faces are extremely difficult ones. In fact, I found myself dragging out that last third of the novel, as I was really struggling with the difficulty of his situation, of the impossibility of the choices he was facing. And I think that, among other themes, choices (or the lack of them) permeate the narrative from beginning to end. These characters aren't given any easy choices.
On one hand, the modern schools are a sort of metaphor for what occurred at the real residential schools in Canada. On the other, they are a very real imagining of what might happen again should the White population be faced with a pandemic to which Indigenous people are believed to have the cure. Beyond that, they take an unflinching look at the existing inequity, the injustices faced by Indigenous people today, injustices that are ongoing.
Dimaline's writing is both hard and persistent and soft and lyrical. She has a unique way of using description to build an image from an unexpected angle, one that makes it bloom in your mind fully formed. In many ways, her distinct style helps make a difficult subject easier to absorb while also making it unavoidably vivid.
In the author's note, Dimaline thanks the readers who asked for more of French and his family's story. She says: "I wrote [Hunting by Stars] this way to include as many of us as I could, to show us together resisting and holding one another close through a dark time, to reflect the readers who deserve to see themselves in print." As a White reader, I am privileged to see myself in print all the time. I cannot imagine what it would be like to read Dimaline's novel as a reader for whom Hunting by Stars would be a reflection of themself and their experiences or a painful address to an ongoing history. But I appreciated the opportunity to step into French's world and see it through his eyes – to struggle with him, to cheer him on.
One of Dimaline's many strengths is to create such strong emotions both on the page and in the reader that the story feels almost more real than reality. If you get the chance, I would highly recommend picking up both The Marrow Thieves and Hunting by Stars for a story unlike anything I have ever read.
I'll leave you with one of my favorite quotes from the book:
"Weight is what holds you to the ground, to this ground. Otherwise, you might just blow away. And it can be unbearable unless you remember that our ancestors are there not just to pile onto the load you carry, but also to shoulder some of the weight."

(Hunting by Stars, 379-380)
A copy of this book was provided by the publisher, Amulet, for review.