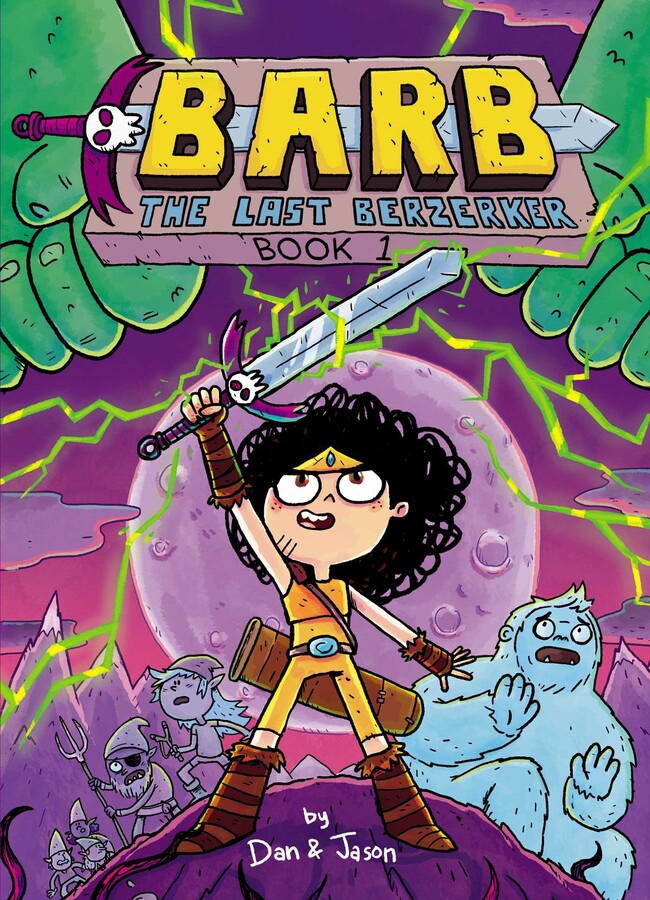 Recently, I got to read Barb the Last Berzerker (Barb the Last Berzerker #1) for MuggleNet, and my favorite part about this book was reading it to my kids. Barb and her best friend, Porkchop, get mixed up in some crazy adventures that are just plain fun to read. In my house, we are anxiously awaiting the second book. If you love a good adventure story, we are sure you will be too.
I also had the opportunity to interview Dan Abdo and Jason Patterson to discuss some of their inspiration and favorite things from Barb and the mythical land of Bailiwick.
What artists and authors inspire you and your style?
Dan: I just read Tom Scioli's Fantastic Four: Grand Design. It's this amazing graphic novel where writer/artist Scioli squeezes the entire history of the fantastic four into one story. It's a beautiful large-format book drawn in this very cool Jack Kirby–esque style. It's a blast, start to finish!
Jason: I'm a big fan of Astro Boy. In terms of layout and dynamic action, I find so much inspiration in those pages. Everything from the word art to the panels just works so well together to make the action jump off the page. I also love Paper Girls for style and color. The art is so unexpected and beautiful. It really brings the reader into a different world.
I know my kids cannot wait to read more about Barb and her friends. This is the first book in a new series. How many books will there be in Barb's adventures?
Dan: We just finished the art on the second book in the series, Barb and the Ghost Blade! We revealed the cover on our Instagram (@danandjason) a few weeks ago! Now we start on Book 3. No rest for the Zerks of Bailiwick!
Jason: Ha! Seriously. We might need the Shadow Blade and its mysterious power to keep up with Barb! I think after the third book, we will have a real foundation that could support lots more stories.
How did you come up with Barb and her story?
Dan: We love fantasy. Wizards, dragons, magic swords, and all that lovely nerd stuff. We knew we wanted to do a fantasy story, and one day over sandwiches, we were bouncing ideas off each other. I remember we were chatting about our kids and how we were constantly telling them to chill out. It hit us: What if we had a hero who was totally wild? Her wildness was her power, but unchecked, that power was destructive. She was going to have to figure out how to master it herself. Her wildness is her power and also her weakness. She is a Berzerker!
Jason: I think something about an early sketch of Barb really inspired us. She was just this fierce-looking kid with a crazy scribble of hair. We instantly wanted to know more about her. Where did she live, who were her friends, and who, if anyone, is trying to stop her? Turns out Witch Head is trying to. Poor Witch Head. Barb is unstoppable!
What do you want young readers to take away from the story?
Dan: First and foremost, I want our readers to have a good time reading this book. It's silly and fun and full of edge-of-your-seat adventure! But also I want kids to know that they're stronger than they think and they have a choice with what to do with power. They can use their strength to help people, like Barb does, or they can use that strength to hurt others. We make the world we live in. What kind of world is this next generation going to make?
Jason: Yeah, I love that answer. Kids are constantly told what to do and what to think. I think it's awesome for kids of all ages to be like, "No, dude, that's super uncool!" and to act on those feelings!
Do you have a favorite character to draw from the book?
Dan: It took me a long time to get a handle on Porkchop, but he's totally one of my favorites now. He's a fun mix of brute strength and fuzzy cuddliness! It'd be super fun to do some Porkchop spinoff stories!
Jason: I love drawing Barb! I feel like sometimes I get it right and sometimes I totally miss it, but she is so cool. Drawing her scribbly hair is super fun!
Was there a favorite chapter to develop the story for?
Dan: I really love Chapter 3, "Barb and the Beast." In this chapter, we see how Barb and Porkchop meet. They're two very different people on the opposite sides of a conflict, but they both share this thing where they don't like seeing people get hurt. Porkchop, who has spent his whole life only looking out for himself, sees Barb "stick her neck out" for others, and he's inspired by it. The whole thing culminates in this awesome battle against this crazy monster, the Grub of Death! It's weird, silly, but also full of heart. Weird, silly, and full of heart is Barb the Last Berzerker in a nutshell!
Jason: I kind of love the first chapter. We really sweat over it, and it must have gone through three or four variations. The thing that we finally figured out and made it all click was Barb and Thunder's relationship. He gives her orders, and she never listens, which drives him crazy. Then, in the end, it's Barb's not listening that saves the day. At the end of the chapter, Thunder finally sees just how special Barb is.
Thank you so much for these awesome questions!
Thank you so much to Dan Abdo, Jason Patterson, and their publisher, Simon & Schuster, Inc. As always, you can follow them on Instagram or on their website! Click one of the buttons below to purchase Barb the Last Berzerker.