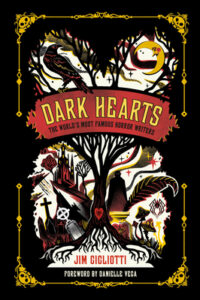 "Who thinks up something like that?"
If you've ever wondered this after reading a spooky story, you're in luck: Dark Hearts: The World's Most Famous Horror Writers might just tell you all about it. For young and old readers alike, Jim Gigliotti's collection of short biographies is a fascinating look at the minds behind our favorite tales of terror.
As a horror fan, I'm always thrilled to discover options aimed at younger readers. Some kids are just drawn to the things that go bump in the night – but it can be difficult to find a discussion of the macabre in the children's section. Dark Hearts may not be a book of ghost stories, but it's just as compelling. Gigliotti provides easy-to-read introductions to 14 writers of the most well-known horror stories, from the "classic" authors, like Mary Shelley, Bram Stoker, and Edgar Allan Poe, to modern-day storytellers, like Stephen King, Clive Barker, and Neil Gaiman. For anyone unfamiliar with these writers' works (many of which may be deemed a little too spooky for younger readers), Dark Hearts makes a great reference for expanding your to-read list in a creepy direction.
As an older reader, I found myself wanting a more in-depth look at each of the authors, but I appreciate that each biography is a good starting point with plenty of fun facts. By the end, I wished there were even more writers included in the book. It's the crash course in the horror genre I would've loved to have as a kid, and I'm slightly jealous of the younger readers who get to experience Dark Hearts as they discover the genre rather than in hindsight.
One thing that was sometimes jarring was seeing the contrast of subject matter with a writing style more suited to children's books. Some of the authors profiled have their own spooky, scary skeletons in the closet, and Gigliotti doesn't shy away from including their real-life horrors in their biographies in addition to the basic premises of their most famous works. But it's done very respectfully to younger readers – an acknowledgment that life, like stories, can have moments of darkness, and sometimes it's best to face those darker topics head-on and speak about them plainly.
If you know a young reader who's drawn to the dark arts of horror writing – or even just biographies of interesting people – Dark Hearts might be the perfect book to round out their to-read list. Check it out if you dare!
A copy of this book was provided by the publisher, Penguin Random House, for review.