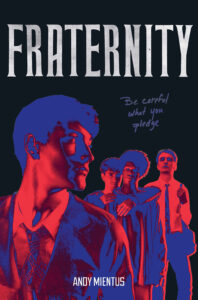 "Nestled in the hills of deep northernmost Massachusetts, Blackfriars has stood isolated in its mountainy perch since colonial times. Named for a monastery that sat on the grounds for only a few years before being disbanded, legend has it that the school was too selective even for several direct descendants of Founding Fathers, and its reputation for an elite student body, demanding curriculum, and strict code of conduct endures today."
—Chapter 1, "Zooey," page 13
Zachary "Zooey" Orson is a sophomore in high school who has just transferred to Blackfriars, a prestigious men's academy, following an incident at his previous school. Aside from first-day jitters, Zooey is very concerned about how this new student body will affect him, as he is interested in men. Despite his attempts to remain invisible, Zooey lands on the radar of infamous homophobic bully Ryan Godfrey. Ryan's friend and teammate Daniel Preston, the only Black student at Blackfriars, does not share Ryan's prejudice and recommends that Zooey attend a private party with him that evening. At the party, Zooey meets Daniel's real friends, Leo Breyer, Steven Hillman, and Daniel's lover and roommate. He soon finds out that these parties are part of a gathering of the underground club the Vicious Circle, a club that was designed as a safe haven for the queer students of Blackfriars. They offer to help Zooey deal with his bully problem, but unbeknownst to Zooey is the type of power they are enlisting to keep Ryan's queer targets safe.
Taking place during the height of the AIDS epidemic, Fraternity is a deliciously dark, queer story about being LGBTQ+ in high school during a time when being queer was highly demonized and deadly. The boys deal with the trials and tribulations of both being LGBTQ+ and messing with dark, supernatural forces. The writing and style of the book are very unique, jumping between various characters' perspectives and styles of narration. The first impression I got, primarily from Zooey, was that of a Holden Caulfield style of narration, and funnily enough, "Zooey" is pointed out to be a nickname taken from one of Salinger's lesser-known novels. The style of writing may not be for everyone, and some other reviewers have critiqued it as being hard to follow (Zooey's commentary is often seen in parentheses), but I did not have any issues.
I highly commend Andy Mientus on this novel. I found a lot of solace and enjoyment while reading it. I also think it is important to note his background. Personally, I have been a fan of Mientus's for quite some time, being familiar with him from his involvement in theater and the entertainment industry. In particular, I am a huge fan of his role in Smash as the loveable Kyle Bishop. It was only after I finished reading the book that I realized who he was, and I am thoroughly impressed with how talented he is as both an actor and a writer. I cannot sing the praises of this book enough, and fans of queer supernatural stories will not regret checking this novel out!
A copy of this book was provided by the publisher, Amulet Books, for review.