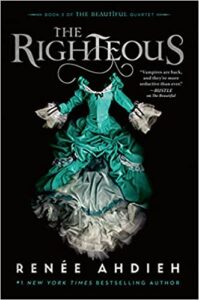 **Spoilers ahead if you haven't read the first two books of The Beautiful Quartet.**
The Righteous picks up a few days after the climactic events of The Damned but does not follow where Bastien and Celine have gone. Instead, we are still in New Orleans, and Odette is dying. La Cour des Lions have done everything that they can to save her, so they send Arjun to the Sylvan Vale to find a healer who can save Odette. Meanwhile, Pippa's wedding to Phoebus Devereux is quickly approaching, but her mind is elsewhere. Her best friend, Celine, is missing, and Pippa is certain that her disappearance is connected to Bastien's. Pippa is tired of being left out of the loop and of being in the dark about everything related to La Cour des Lions. Pippa's determination to find out what happened to Celine leads her to enlist the help of Eloise to find out the truth.
The Righteous doesn't focus on Bastien and Celine but rather the supporting characters of the previous two novels, Pippa and Arjun. Through Pippa and Arjun, we get to explore the Sylvan Vale more, which adds yet another layer on top of the incredible world Ahdieh has built. We finally get to see more of Pippa's character and her determination to go after her best friend. Ahdieh does another fantastic job of writing characters from different backgrounds and gives them a rich backstory, as seen with Arjun in this novel.
The Righteous features other characters that are mentioned in the previous two books, and the fae realm plays a more prominent role. This book is slow to start, a change in pace from the quick-paced and intense ending of The Damned, but the last 50 pages are where things take a turn. Each book has its quirks and is different in its own way but has cohesiveness to it.
This reader was disappointed in the lack of Micheal, Celine, and Bastien – I have grown to care for all three of them, but they barely made an appearance. There was some dragging of chapters, and some important issues that were mentioned in The Damned were hardly addressed in this novel. Hopefully, the last novel will tie up any loose ends. That being said, this novel felt more like a filler and setting up for the finale of this quartet. This book had a lot happening and felt very disjointed from the first two books.
The previous books in this quartet are The Beautiful and The Damned.
A copy of this book was provided by the publisher, Penguin Random House, for review.