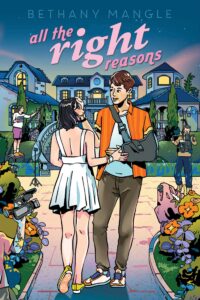 All the Right Reasons follows Cara and her mom, Julia, as they navigate life after a messy divorce. When a private video not-diary ends up online and takes the world by storm, Cara and Julia are offered a shot at building a new family on a new reality television show. However, being on a reality show isn't all that it seems, and by the end, Cara is worried she won't end up with the new dad she hoped for.
This book is incredibly fast-paced. The plot consistently jumps to the next point in a way that flows well and holds the reader's attention without feeling too brisk or rushed. Although I thought the book would take a while to get to the reality television aspect, Mangle created a timeline that worked well and felt reflective of how quickly something like a viral video can change someone's life.
After I finished reading, I wished there had been more exposition in some parts. While I enjoyed the pace of the story, there were times when I felt like I didn't know the entire backstory of an event, which made me unsure how to feel when that event caused another situation to arise. However, I think this goes well with the idea that a viewer or participant of a reality show never quite knows the entire story, whether it's because the viewer gets the television edit or the participant is left out of the decisions made by producers. With that in mind, it does make the reader feel like they are filming the show with Cara and Julia, which adds to the readability of the book.
All the Right Reasons gives a fun behind-the-scenes view of reality dating shows but also has a storyline that, in my opinion, would never happen in an actual dating show, which makes the ending unexpected. It is a great surprise that, as a reader, I was desperately hoping would come back up somehow, and when it does, it's worth the wait. It also gives the satisfaction you don't always get from a reality dating show, and for that alone, I was pleased. The epilogue gives us a view of Julia and her new husband's life, and it's everything you want the life of a dating show contestant to be after the lights go out on their season. Overall, this book gave me everything I feel reality dating shows lack, which made for a gratifying experience.
While the show is meant to help Julia find a new husband, Cara also ends up finding a love interest. While aspects of the plot revolve around Cara and her crush, their storyline always ties back to Cara's goal of helping her mom find a new husband who will treat her miles better than her first husband. The main love story of Julia and her contestants never feels overshadowed by Cara's, which was a nice touch.
All the Right Reasons is an enjoyable read if you like dating shows or reality television and want to see a unique ending. What starts as a story about a single mom and daughter turns into a great adventure to find love and everything that journey brings with it.
A copy of this book was provided by the publisher, Simon & Schuster, for review.