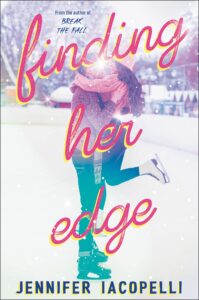 Finding Her Edge follows Adriana, an ice skating prodigy, as she tries to juggle entering the limelight after her older sister, Elisa, chokes at the Winter Olympics. Now with all the pressure on her to win big for her family, Adriana finds herself getting lost in a sea of brand partnerships, fake relationships, and real crushes.
Iacopelli tackles so many different themes in this book. While none of them delve beyond surface level, which is expected due to the age this title is geared toward, the themes are no less relatable. Adriana is tasked with winning at the Junior World Championships so she can begin the climb to the next Winter Olympics. Her dad lives an extravagant life, and he needs his children to bring in money through medals and sponsorships to maintain that lifestyle. As the middle child doing ice dancing, a discipline her dad has all but laughed at in the past, Adriana has never had these expectations from her family before. It's a great deal of pressure to suddenly be placed on her shoulders.
I don't want to spoil this book, so all I'll say is the pressure from her dad causes Adriana to make decisions about her life, and the people in it, that give her a significant amount of stress. It puts her relationship with her skating partner, Brayden, at risk and causes her to question past decisions she's made related to her ice dancing career, particularly those involving her old partner, Freddie. She worries about her relationships with her ice skating friends and her family and how all of those will be impacted by her success or failure.
While the themes are surface level, everyone can relate to having pressure from someone on their shoulders, trying to find their way through a difficult time, or wondering how to salvage a relationship. Finding Her Edge shows how pressure can radiate out into other parts of your life and potentially ruin something that you considered a comfort or enjoyable activity. As a reader, I found it difficult to see Adriana struggle with her love for the sport and the mounting pressure of her situation.
Some themes could be better explored, even as surface-level mentions. Toward the end of the book, it's briefly mentioned that Adriana is considering how to keep the money she's earning away from her dad and Elisa, specifically so they don't spend it all on lavish items. When her dad gets wind of this, a very accusatory conversation happens at a celebratory party, where he all but demands to know why she doesn't want to help her family. This is brushed over and never mentioned again, and because it happened at the end of the book, the situation was jarring. At that point, it wasn't necessary to drive home any part of the plot, so it felt like it came out of left field.
Finding Her Edge is a cute read if you want a book themed on the Winter Olympics. Ice dancing isn't a sport you hear about every day, so it was fun to read and learn about while we follow Adriana's journey to the Junior Worlds and beyond.
A copy of this book was provided by the publisher, Penguin Young Readers, for review.