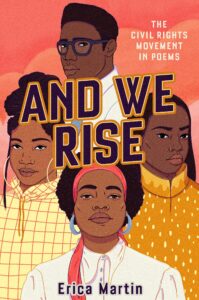 I've always found that poetry is an easy way to tiptoe into spaces you are not familiar with, whether that be otherworldly or here on Earth. Poetry, to me, is one of the most universal forms of communication, a spoken version of the song. Children are taught spoken poetry right from the start with the ABCs, "Twinkle, Twinkle, Little Star," any Eric Carl book, or even those of Dr. Seuss. I find most folks remember rhymic words easier and more readily than others, and as such, poetry can be a fabulous teaching tool for all generations. I personally started to love poetry in my college years. I needed an English class to fulfill a requirement and decided to take a poetry lecture. I learned more in that class than many of the others combined, lessons I carry with me today.
US history is something that bored me in school. I later realized that was due to how it was taught: lectures don't help me learn, and they certainly don't keep me focused. I've sought out my education in more creative ways, so when And We Rise came across the inbox, I jumped at the opportunity to get my hands on a copy and couldn't wait to devour it. The collection of poems, the first for poet Erica Martin, focuses on the "well-documented events that shaped the nation's treatment of Black citizens, beginning with the 'Separate but Equal' ruling," and goodness, was it a lesson for me, a snowy white lady from the North. Of course, I knew of the famous stories, the ones most schools teach, but learning them through the melodic verses gave me an entirely new perspective. In the author's note, Martin mentions she went in search of the full truth of the era, and reader, I believe she found it.
The collection is organized by year, and the reader proses their way through the decades. Interspersed with historic photographs, from Rosa Parks's mugshot to images from 1963's March on Washington, this isn't simply a collection of thought poems. These are masterfully researched and heartfelt pleas to the times, both then and today. Martin hits all the proper notes: pain and plight, agony and anger, victory and defeat, truth and lies. I can honestly say I've never been so moved by a collection that equally made me sick to my stomach.
The naive attack on critical race theory in schools today has made the learning of the full, true history of the US even more imperative. Even though this book is technically for young readers, as an adult, I found it incredibly powerful and moving, and as I mentioned, I learned a lot. There isn't a single word in the collection young Black ears haven't likely already had thrown at them, and a plentiful amount of lessons for their White peers to take in. And We Rise should be given to children alongside their history books, as I truly do believe it is a beautiful and essential collection for this, and the next, generation. I applaud Martin for her extensive work; the bibliography (yes, there are multiple pages of sources!) is impressive and thorough. I truly cannot wait to see what she does next.
An advanced reader's edition of this book was provided by the publisher, Penguin Young Readers, for review.