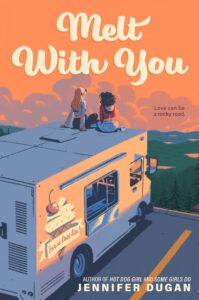 I am such a sucker for a good, easy read. I don't personally have a lot of time to sit and actually stick my nose in a book, so when I do, I want to sink into it and forget the world around me. I am a fan of Jennifer Dugan's work already (please run to your library or bookstore and grab a copy of Some Girls Do!), so I was fairly positive I was going to enjoy Melt With You, and yeah – I really, really did.
Dugan has a wonderful style and prose that really sticks with the reader. In Melt With You, we follow teenager Fallon, a closeted teen who works in her mother's ice cream truck –aptly named Love at First Bite – along with their two best friends, mother Carmen and daughter Chloe. Fallon acts as narrator and very often talks to the reader, confirming thoughts or actions or assumptions they may be having while reading the words on the page. "I bet you didn't see that one coming" or "You're probably still really wondering what happened" are perfect examples of the unique style which, quite frankly, I loved. I personally love to engage with the reader when I write and find it brings a new level of understanding and depth to the characters and the story. Dugan executes it seamlessly and, so often, hilariously. Fallon is a heartbroken teen, and the reader definitely feels that through her actions.
The relationship between Fallon and her mother is really adorable and relatable, the most so out of all the relationships we see – for me, at least. I appreciate the trust we see between the pair, and although Fallon is keeping a major, major secret from her mother, I think the intention of keeping the moment private is purely out of self-dislike and external anger rather than a lack of trust.
We meet Fallon's ex–best friend and past/current crush, Chloe, rather quickly and get to know her only through Fallon's eyes – which isn't the negative experience one would expect. Dugan does a fantastic job of making each teen's character very clear and different while pointedly making them have a plethora of shared interests and experiences. The pair is estranged when we first meet them, having slept together the year prior and not spoken since. So naturally, they get put in charge of driving their mother's ice cream truck across the country to a festival in Texas. A hilariously adorable, albeit sometimes really frustrating, road trip ensues. There is zero chance this book won't be made into a film, so I won't spoil the ending, but needless to say, it is sweeter than an It's Not You, It's Tea sundae with rainbow sprinkles on top.
A copy of this book was provided by the publisher, Penguin Young Readers, for review.