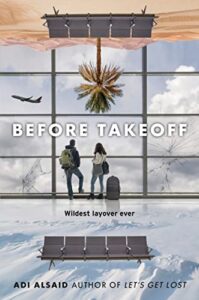 From the title alone, I'm pretty sure you're already thinking of loads of different airport scenarios – a dramatic entrance with someone begging for their lover to stay, the start of a beautiful friendship between a child therapist and a figure skater…. Okay, maybe those aren't what you'd initially think when seeing the words "before takeoff," but I'm guessing you didn't think of two teens falling in love during a layover that literally breaks the laws of the universe, right?
Before Takeoff begins with James, one awkward and relatively shy 16-year-old Latinx boy, and Michelle, an adventurous, against-superlatives, Thai-French 18-year-old woman who's been to so many places that her passport's practically bursting at the seams. These two are as different as can be, and sometimes, that can make both parties want to tear their hair out. Other times, though, being opposites can mean being totally drawn to one another – the exact way they're both drawn to the blinking green light.
We end up tagging along with these two as all hell breaks loose at Hartsfield-Jackson Atlanta airport. Literally, there are snowstorms and igloo-building in Terminal B, and a literal jungle in Terminal C. Everything's just absolutely crazy, and in all this madness, there are bouts of hilarity, instances of the crushes you get when you're 16, footnotes of suspense and thrill, and a whole load of tragedy.
Yep, you read that right – tragedy.
Contrary to what you'd think given all the insanity I've just spewed, Before Takeoff isn't a story that focuses on an adventure with loads of action-packed sequences that'll have your veins thrumming with the pure thrill of it all. Sure, it's got those, given the pure chaos the airport's hurling at poor James and Michelle and every single other person there, but this tale is one that focuses more on introspection, fears, hard-to-deal-with grief, the longing for more, and the other complex facets of humanity that aren't explored nearly as much as they should be.
Now, I'll be completely honest. I didn't appreciate this book nearly as much when I was poring through the first half of it. Yeah, the first 15 or so chapters had some good dialogue and the action that I originally planned to get, but it felt rather sluggish for me. And that's one of the things I think of whenever I see the title on my NetGalley shelf – I was originally expecting something akin to Jumanji since that's what it's pitched as, but that's not what I got, and that made for both good and bad thoughts about this book.
I was expecting loads of action, extremely hilarious situations that make you double over in laughter, characters that aren't too three-dimensional but get you loving them all the same, and the pure chaos brewed that's got you guffawing at the sheer craziness of it.
But that's not what you get, because, like I said, Before Takeoff offers something else – not entirely different, but something that makes it different from what you'd think you're getting yourself into.
This tale is one that focuses on its characters and their thoughts, and not just James's and Michelle's. You get to see the perspectives of so many others. Some of their stories get revealed, and you want to know more about them the same way James suddenly gets the urge to reach into people's pockets and unfurl everything there is to know about that person. You get to see moments taken apart in someone's inner monologue, you get to see these random thoughts that no one really pays much attention to but should, and you get to see characters seem more human as the story goes on.
Sure, I'll admit that Before Takeoff is something of an acquired taste. For one, it uses third-person omniscient, so there's a narrator over there. For two, it's not nearly as densely packed with action as you'd expect it to be. And it also goes rather slowly during the first half, with some dialogue seeming like it's trying just a little too hard to take on the way people speak nowadays.
But it has its highs. All the introspection aside, James and Michelle are pretty hilarious in their awkward conversations – you know, the typical way teens talk. Plus, you've also got a Harry Potter reference in there, with a literal creature that the author says is exactly like one from the wizarding world (kudos for the narrator sarcastically remarking on the unoriginality, by the way), so I'd consider that a win.
Overall, I'd recommend this to people who like character introspection – actually, I'd probably recommend this even if they don't, because it's a pretty good read.
A copy of this book was provided by the publisher, Random House Children's Books, for review.