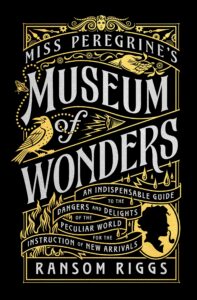 Ransom Riggs's newest installment to the Miss Peregrine's universe is stunning. Miss Peregrine's Museum of Wonders is a magnificent addition to the vibrant, peculiar world, a.k.a. Peculiardom, that Riggs has created. Through chapters written by the (co-)Headbird herself, Miss Peregrine, we are captivated by a guidebook on peculiar abilities, peculiar animals, peculiar plants, peculiar loops, surviving as a Peculiar, and more. This incredibly immersive book, coupled with inserts from other Peculiars we've come to love and annotations from Miss Peregrine to Jacob, beautifully adds to the chaotic world we've grown to adore since 2011.
I have been an immense fan of the Miss Peregrine's series for many years now. The books have always served as an escape when I was struggling. Riggs's ability to put the reader in the story, the brilliant plot, and the writing, as well as the incorporation of genuine old photographs, has made this my favorite series. I was incredibly excited when this book was announced, and I am so grateful that I can review it! Also, yes, I know I volunteer on MuggleNet (obviously), which is for Harry Potter (obviously x2), but that doesn't change the fact that this is my favorite series!
The format and style of this book are approachable. Miss Peregrine's Museum of Wonders can easily be read as a standalone or an introduction to the Peculiar World for readers. While some aspects may elude those who haven't read or finished the six-book series, Miss Peregrine's writing serves to educate less knowledgeable peculiars. Aside from the annotations to Jacob, this book is very "pick-up-able," and unlike with the main series, no prior context is needed to read it. I also really commend Riggs's ability to write so distinctly as each character. His mastery of each person's voice is clear, as he effortlessly writes this entire novel through Miss Peregrine's voice, as opposed to Jacob's (which the main series was fully narrated by). The level of detail in this book is also incredible. There are so many facts, animals, people, and so on cited in this book, and the level of creativity Riggs put into this novel is very clear. Any reader, new or old, interested in learning more about the Peculiardom will definitely enjoy this book!
The entire series of Miss Peregrine's, all in all, is brilliant! I highly recommend this series to fans of the Harry Potter books, as it is another incredible saga of magical children fighting evil while finding a new family to call home.
A copy of this book was provided by the publisher, Penguin Random House, for review.