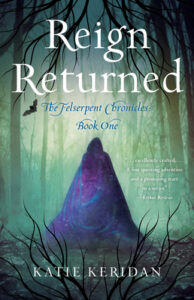 Anyone who knows me is well aware of the fact that I absolutely adore all things fantasy – most especially if it's got anything to do with death. One thing that they'll also know is that I'm a huge sucker for anything that's got flashbacks intertwined with the current plot.
Oh, and did I mention that I also love the famed enemies-to-lovers trope? All three of these aspects are present in this book, and I wish to read everything all over again.
That's right – Reign Returned: The Felserpent Chronicles is oozing with the best book tropes you could possibly combine, all while still managing to place some brilliant political intrigue and captivatingly rich worldbuilding.
So before I ramble too much about how I love this story to bits, I'll go ahead and tell you the main premise.
Reign Returned: The Felserpent Chronicles follows Kyra Valorian, the most outstandingly gifted Astral healer in the whole of her realm, and Sebastian Sayre, an incredibly skilled Daeval assassin who prefers being alone, with the one exception being his Cypher, Batty. These two are very much opposites when you just take a glance at their character descriptions, but when you actually get to know them – well, they're still quite different, but it isn't really jarring but rather endearing.
The way these two cinnamon rolls (well, they aren't really cinnamon rolls, but all the fictional characters I adore are cinnamon rolls in my head) end up meeting is, well, not exactly an entirely pleasant affair, to say the least. It isn't that they'd like to meet each other to get to know one another, which isn't that surprising given it's a fantasy, but, still, it's unconventional.
Their relationship starts off rather rockily, with each being wary of the other, and rightfully so considering their opposing realms. But eventually, Katie Keridan makes your heart race as they slowly inch their way into each other's hearts, and, Merlin, it's beautiful.
Kyra and Sebastian's love is the type that you envy, the type that you sorely wish you had in real life, the type that you'd clamber into a fictional world for. It's gorgeous and gutting and so utterly brilliant that I desperately wish I could read this book for the first time all over again.
Also, this story is made even better by the fact that it's got a soulmate and reincarnation element to it, and that makes the flashbacks and switching perspectives all the more enthralling.
Really, I just can't say enough about how this book took my attention and made me go to sleep far later than I should have.
It's an amazing story with just as great three-dimensional characters, and gosh, if that wasn't enough, you also have a perfectly rich history and political spin.
I just – I love this too much, and to everyone who's considering getting this book, I'm saying it now: Please, please do. You won't regret it.
A copy of this book was provided by the publisher, SparkPress, for review.