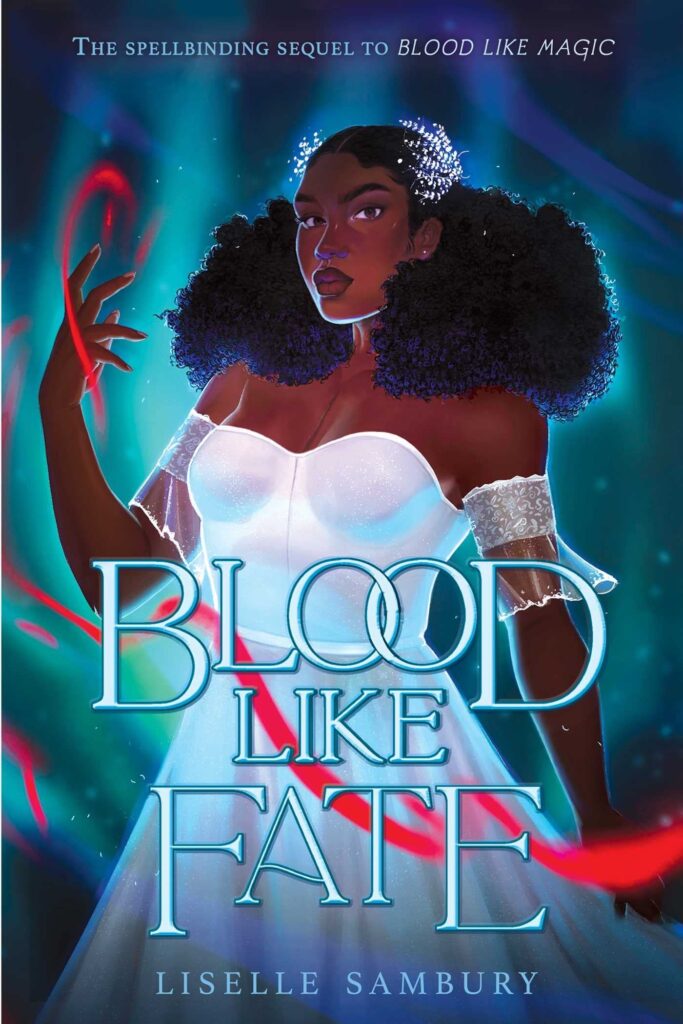 In the sequel to Blood Like Magic, Voya is reeling from the cost receiving her gift had on her family: She is without her grandmother, her love hates her, and her cousin Keis wants nothing to do with her. She did not expect to receive two gifts, unprecedented in the witch community, or to be the Matriarch, but now she has her family and their business on her shoulders. Topping it all off, she has a vision of a threat to all the witch families and has to rally them together to save their way of life.
Blood like Fate takes place six months after the first book, and Voya is still grappling with her indecision and insecurities; only now, the added weight of being a Matriarch responsible for the entire family has added to those feelings. They cannot figure out the secret ingredient that makes the beauty products so special, causing the business to struggle to survive. Other witch families are noticing the drop in quality, and as the stock dwindles, they are not buying the products anymore. All this adds to Voya's feelings that she is not living up to expectations.
When she has a sudden vision of a very dark future, she knows she needs to do something to prevent it from coming to pass but struggles with getting the other witch families to take her seriously. They repeatedly dismiss her concern because the future can be in flux, arguing that it could change from what Voya saw. When she finally gets the other Matriarchs to take her seriously, they form a Council, causing her to hope that the families can unite in a more lasting way. She wants a future where witches do not just "Suffer and Survive," as her family motto would have you believe.
Once it becomes apparent that her former love, Luc, could be behind the threat to the witches, Voya teams up with Eli (a representative from another family who works at NuGene, Luc's company) to look into what they could be doing to the witches. She and Eli begin looking into things and find there is a new anomaly causing an affected witch's gifts to become more powerful than they can contain. As the days go on, Voya becomes more worried about the impending danger and if she can even trust Eli, who seems to space out and not know what is going on at times. She is afraid that she will not be able to save the witches if she is also unsure whether to trust Eli or anyone else on her Matriarch Council.
What I loved about this book was how it felt like I was picking up right where I left off, with all my favorite characters and engagingly introduced new ones. I did not find myself overwhelmed by character development and did not feel like I was drowning in unnecessary backstories without all the typical heavy-handed recap. Liselle Sambury develops the characters perfectly and gives you all the information you need without feeling like something is missing from the story. I had hoped, however, that after the events of Blood Like Magic Voya would have a little more faith in herself and be a bit more decisive. However, that is not a very realistic expectation for me to have of a character who is still only 16 to 17 during the events of this book. It is far more realistic for a character her age to be plagued by indecisiveness and feelings of inadequacy, so even though I would have liked it to be different, it is well developed the way it is.
After reading the first book in the series, I was highly anticipating the sequel, and the book did not disappoint on any count. I hope there are more books to come, as I would welcome any chance to read more about Voya and her family. If you have not started this series yet, I highly recommend you pick it up at your earliest convenience because I do not think the series will disappoint.
A copy of this book was provided by the publisher, Margaret K. McElderry Books, for review.