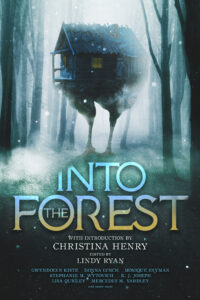 The deep, dark forests of folklore from around the world wouldn't be complete without a witchy inhabitant or two. In Slavic traditions, that witch is often Baba Yaga, the mysterious crone who rides a mortar and pestle and whose house famously sits atop chicken feet. Her nature and motivations are as numerous as the stories told about her – some of which are collected in this modern anthology edited by Lindy Ryan.
Into the Forest: Tales of the Baba Yaga presents over 20 short stories (and a poem) featuring the legendary witch, all told by female fantasy and horror writers. Though each tale naturally varies by author, the anthology is a love letter to women in horror – as both characters and storytellers. In the preface, editor Lindy Ryan describes both Baba Yaga and the collected stories about her as "wild and fierce and feminine," and there could hardly be a better way to express the themes that truly tie this book together.
As would be expected of a horror anthology about an often horrifying figure, there's plenty of blood, guts, and terror found within these pages. There's also magic and wonder and hope. There are stories in which you want to curse Baba Yaga for her cruelty, but just as many in which she's a figure of freedom and even – in a twisted way – joy. Prepare for a roller coaster of emotions if you decide to read more than one tale at a time; with some of the stories, you might want to prepare for that anyway.
As someone who's very much into folklore, horror, fantasy, and all things with a witchy vibe, I found that Into the Forest was a fabulous read. If you've recently finished a stack of fantasy fiction and the magic is all starting to look a little tame, this book might be the perfect reminder of how unpredictable, free, and terrifying magic can be.
Of course, some of that terrifying imagery, along with potentially upsetting topics and a few four-letter words, means that this probably isn't a great book for younger readers or the easily squeamish. There are some particularly vivid and gruesome phrases that even I had trouble getting out of my head for a while after I closed the book.
If that's not a deal-breaker for you, do yourself a favor and give Into the Forest a try. There's so much to love about these stories that a gory mental image here or there seems more than a fair price to pay for the experience.
"The Baba Yaga is an idea, not a name," one character says. "I am an ancient idea more than anything," Baba Yaga says later in the same story. That may be true; I'd happily read many more ideas exploring this fascinating figure. Given her longevity in folklore so far, we probably – hopefully – will see much more about her in spooky stories yet to come. In the meantime, Into the Forest is a worthy addition to the collection of her legends.
A copy of this book was provided by the publisher, Black Spot Books, for review.