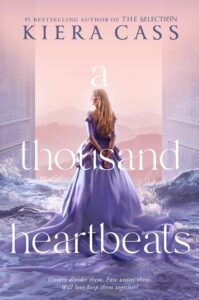 Even though Princess Annika has led a comfortable life, she cannot escape the reality that her life is not her own. Her father, the monarch, has turned cold, and she will soon be compelled to wed for political benefits to someone she detests.
Small luxuries are hard to come by for Lennox. In the hopes of one day assisting them in regaining the throne that was taken from them, he has dedicated his life to the Dahrainian army. Love is the last thing on his mind.
A classic enemies-to-lovers tale (and that's not a spoiler because, let's be honest, it's all right there in the description), A Thousand Heartbeats is a sparkling romance that features star-crossed lovers and political intrigue.
The story reads like every other Kiera Cass book: strong-willed leading lady and dashing, charming young man. It's simply a nice read. And, just like every other Kiera Cass book, it's predictable. Maybe the context clues were dropped very obviously on purpose, but I was able to guess every plot point except one. The one I wasn't able to guess wasn't even that shocking. But sometimes, that's okay. Sometimes we just want a book set in a beautiful land where people battle and fall in love, and we know what the ending is going to be. There's peace in that.
Even though the story focuses on Annika and Lennox, the supporting characters are just as three-dimensional and enjoyable to read. A Thousand Heartbeats has a great ensemble cast of people with very real goals and ambitions. When a story is about two people, it can be easy for others to get lost in the background and just be used as plot devices. But through the perspectives of Annika and Lennox, we learn to love the people around them just as much as they do.
It's always a joy to read anything Kiera Cass puts out, and A Thousand Heartbeats is no different. If you want a young adult fantasy story with love, politics, and some sword fighting, I recommend this book as a cozy autumn read.
A copy of this book was provided by the publisher, HarperCollins, for review.