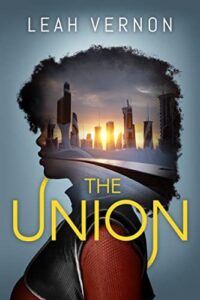 Avi Jore and Saige Wilde are born into a world of Black elites and biracial and white sub-classes after COVID-19 and climate change–related civil wars create a new dystopian world order.
While Avi is poised to continue a life of power following generations of her family's rule, Saige fights every day of her life simply to survive. When Saige foils an attempt on Avi's life, the two find their journeys unexpectedly intertwined.
Leah Vernon's new novel is a breath of fresh air in a genre that has exploded in popularity several times over. The Union tackles complex socioeconomic issues familiar to any American reader: differences in class, gender expectations, and the complexities of racial inequalities that permeate law, status, and culture.
Without offering any spoilers on the plot, the story can best be described as a dystopian thriller that opens with diametrically opposed characters. As Saige is trapped in slavery to the Elite class, Avi is at the pinnacle of that class, focused on excelling in classes and training to someday become the next ruler. As revolutionary whispers entangle the entire nation, Avi and Saige are both forced to confront their perceptions of reality and work with people they never imagined would be necessary for their survival. By the end of their journeys, the two find themselves staring down unfamiliar futures in a world far removed from what they ever anticipated.
The Union also paints a backdrop of a future riddled with turmoil after catastrophic pandemics and the effects of global climate change. These touches bring an eerie resonance to an already emotional storyline. Readers won't just see themselves in the characters' decisions; readers will see their world in the bleak future that Vernon paints.
In addition to being a searing reflection on our society, The Union is also a fascinating story of friendship and community. The supporting cast of characters, from those in the deep underground to those at the highest level of society, are all complex and never a cartoonish example of heroism or evil. Dark humor and surprisingly heartwarming relationships bring levity throughout the novel.
Fans of dystopian favorites like The Hunger Games and Divergent will enjoy this fresh entry into the genre, as will readers who want a unique commentary on the social, cultural, and political issues all around us.