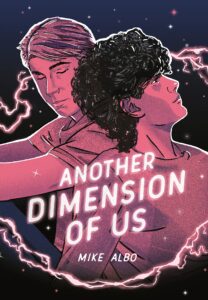 Another Dimension of Us, by Mike Albo, is a very creative queer sci-fi love story about two relationships in separate, well, dimensions: one set in 1986, the other in 2044. In 1986, Tommy Gaye's best friend and crush, Renaldo Calabasas, is definitely eccentric. He enjoys writing poetry and is interested in reading about niche topics (his favorite book is "The Sacred Art of Astral Projection"). However, things take a turn when he starts acting really weird and talking about hearing strange voices. Then, one night during a huge storm, Renaldo is struck by lightning. Now Tommy is having weird dreams about things connected to him that just don't make sense, such as Renaldo's home being disheveled and covered in dust. As if things weren't bad enough, the Renaldo that comes home from the hospital… isn't the same person.
The two timelines of the book are connected through astral projection and demons, which are both interests of mine, so I was intrigued. There are some very creative points to this book. The concept is very unique, but it is quite expansive, which I feel contributes to some of the issues I have with this novel. There are some very sweet queer moments present in this book, though. They are written quite nicely, to the point that I was blushing.
However, I honestly couldn't get through this whole book. The creativity is there, but the writing often feels flat and lacks depth. The characters are fun, but considering genuine history is involved (the AIDS epidemic), they feel unrealistic at times. The writing style and format give off the vibe of a younger teen novel, but there are more mature themes and language, consistently.
The main area where I felt this novel truly struggled was the number of plot points that were involved. Queer teen romance as a concept itself is very hefty, especially when something like the AIDS epidemic is involved. However, also tying in astral projection, demons, and traveling to separate timelines, with rotating points of view, is… a lot. I felt this novel had the potential to be as successful as Andy Mientus's Fraternity, another queer novel with a similar idea that I reviewed previously. Instead, though, the story feels very hard to follow, with a lot of diverging concepts that lack explanations and/or enough context.
I feel this book represents Mike Albo's creativity and passion for sci-fi and queer stories. While I am not overly impressed with this novel, I do feel that Albo has talent. More planning, with clearer direction and end goals, is needed, but the ideas are there. I look forward to trying again with one of his future novels to see how his stories develop.
A copy of this book was provided by the publisher, Penguin Random House, for review.