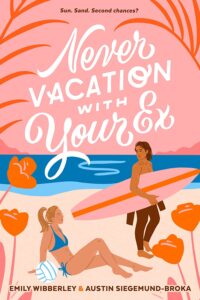 Never Vacation with Your Ex has a really fun cast of characters helmed by high school student and nationally ranked volleyball superstar Kaylee and her best friend–turned–ex-lover, Dean. The pair's back-and-forth antics are the main catalyst for everything that happens in this very beachy (literally), fun summer read and also lend a lot of heart, comedy, and drama to the tale.
The novel starts right after the two have broken up, and Kaylee, a serial dumper who never dates anyone for any real length of time, worries that their broken friendship will ruin the two families' summer vacation together. Focused on ensuring her summer is not ruined by Dean's bad mood or the weird tension between them, she vows to help him get over her. On top of the oddball romantic setups, Kaylee has to deal with living in the shadow of her Olympian mother and being a public-facing Instagram athlete, both of which create a few obstacles of their own (many by Kaylee's own hand).
Overall, I thought the book was a lot of fun, and for me as a former volleyball player, it brought back a lot of high school memories of the sport. I enjoyed the witty banter between our lead "couple" and the other family members. We even meet a few outside romantic interests, and they also bring a certain spice to the very interesting plot twists that seem to appear every couple of chapters.
This is one book you definitely want to add to your beach bag for the summer. It may even inspire you to hit the court and try out an overhand serve or two.
A copy of this book was provided by the publisher, Penguin Young Readers, for review.