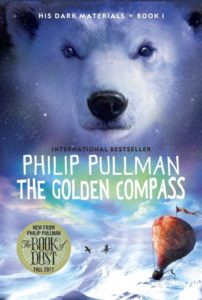 With the recent announcement of Philip Pullman's The Book of Dust – a return to the world of His Dark Materials – there's no better time to revisit the classic that started it all: The Golden Compass.
I first encountered The Golden Compass as an audiobook when I was a very small child – I would drift off to sleep listening to Lyra's adventures. To this day, Pullman's words pull me into a kind of soft dream-world where anything is possible. I was in middle school before I learned that The Golden Compass had two sequels, and it was remarkable to learn that a story I had loved when I was younger was just waiting for me to pick it up again. To say that I am excited to read more stories set in Lyra's world might be the understatement of the year!
For those of you who haven't been a fan of this book for the last twenty years, here's what all the fuss is about. Lyra Belacqua loves her life at Jordan College, Oxford. She spends her time running wild with her friend Roger and the other local children, interrupted only from time to time for sporadic education from the college scholars. But Lyra's happy life is changed forever when she overhears her Uncle, Lord Asriel, share some disturbing and unbelievable news from the far North. Not long afterward, children start disappearing, and all anyone knows is that they're being taken by a group known as the Gobblers. Before she knows it, Lyra is caught up in a fearsome struggle with otherworldly consequences.
"Chosen One" narratives where a girl gets to be the one to save the world are more common than they used to be, but Lyra's was the first to make a big impact on me. All these years later, she's still one of the best – a Gryffindor before we knew what one was. Sometimes returning to a childhood favorite can be a letdown, as the stories that mesmerized you as a child fall apart under adult scrutiny. Not so with The Golden Compass. Pullman's breathtaking imagination continues to captivate me – from dæmons to armored bears to hardcore archaeologists. (Okay, maybe I didn't care about the archaeologists as much as a child. But they're really cool!)
If you missed The Golden Compass the first time around, there's no better time to get on board the Philip Pullman train. If you have read it, but it's been a few years, now's the perfect time to fall in love all over again. The Book of Dust comes out in October, which gives you plenty of time to reread not just The Golden Compass but also The Subtle Knife and The Amber Spyglass – not to mention enough time to convince everyone else you know to read them too!
A copy of this book was provided by the publisher for review.