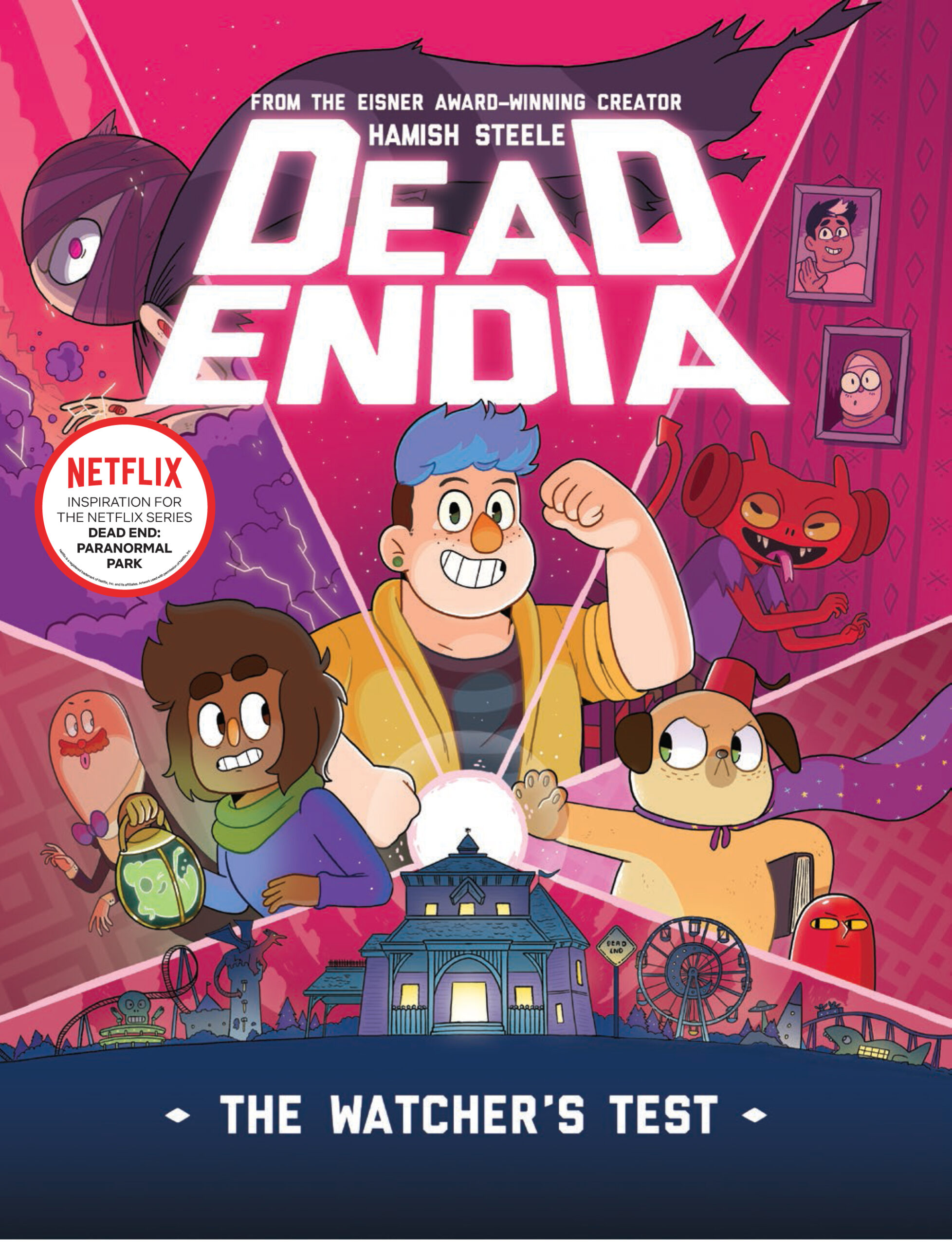 When Barney's parents balk at accepting his trans identity, he feels he has no choice but to run away from home, leaving without even saying goodbye to his younger brother, Patrick. Besides a few essentials, all he brings with him is his loyal dog Pugsley – who wasn't about to let Barney face the big wide world alone. Unsure where to turn, Barney decamps to the first place he can think of: Dead End, a haunted house attraction in nearby Phoenix Parks. His best friend Norma works there and gives Barney both a job and a place to stay. Of course, Barney wasn't counting on the house being truly haunted… but it turns out that Dead End actually contains a portal to Hell. The good news is that living with an elevator to Hell in your front closet isn't as bad as you'd think, most of the time. The bad news is that, sometimes, it's worse.
It doesn't take long before Barney, Pugsley, and their friends are mired in an interdimensional, transtemporal war, one they must face while dealing with all of the other troubles that arise from striking out on your own for the first time: talking to boys you like, finding a way to reconnect with your younger brother, and casually chasing down escaped demons on your days off. But when Pugsley suffers strange side effects after being possessed by a demon king, the gang is headed full throttle toward a dangerous, otherworldly confrontation.
The Watcher's Test is divided into chapters that feature semi-standalone adventures that slowly build toward the book's dramatic final climax. Being from East Tennessee, my favorite of these was the one in which Phoenix Parks' namesake, Pauline Phoenix (the DeadEndia equivalent of Dolly Parton), is possessed by a demon, whom Barney and Norma must find a way to banish. The cosmos Hamish Steele has invented is delightfully weird and provides a colorful and off-kilter backdrop for the interpersonal triumphs and trials of Barney and his friends. These shorter episodes balance the novel's heavier narrative arcs and keep the story moving along at a quick pace.
Barney's experiences as a young trans man are also an essential element of the narrative, informing his relationships and how he engages with the world around him. Of particular poignancy is Barney's relationship with Pugsley, who loves Barney unconditionally, even at those times when Barney finds it hard to love himself. (A gentle warning that those who have recently experienced the loss of a pet may find Pugsley's arc a little too poignant.) At a time when the rights and safety of trans youth are under attack, we need to uplift stories that highlight both trans joy and the specific obstacles often faced by young trans folks. DeadEndia does both while also providing a wacky, rip-roaring supernatural adventure in the tradition of Adventure Time or Steven Universe.
DeadEndia has been adapted into a Netflix series, Dead End: Paranormal Park (which I haven't seen but I'd guess is just as fun as the book). And now that it's September, with spooky season just around the corner, there's never been a better time to dive into Hamish Steele's graphic novel series.
A copy of this book was provided by the publisher, Union Square & Co., for review.