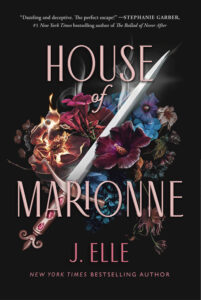 Quell has a secret. It is a secret that has caused her and her mother to spend most of their lives on the run, in fear of something that Quell's mother has never fully explained to her. After a confrontation with some representatives from the organization hunting Quell, she and her mother have to separate. When Quell attempts to reunite with her mother and instead meets more of the people hunting her, she goes to the only place she can remember being safe: her grandmother's home. Once there, she finds out that she comes from a long lineage of people with magical powers. As she studies under her new instructors and brooding mentor Jordan, she learns that she can potentially use her newfound abilities to lock away the dark magic inside her; it is this darkness that has caused her to live her whole life on the run. However, as she enters further into this new life, she realizes that maybe there is more to fear than her own inherent dark magic. In the end, she will have to make a drastic decision to save herself, her mother, and her new friends.
J. Elle's new novel builds a magical world dripping with power and opulence. As you learn more about Quell, you discover she is a fiercely loyal and loving daughter who is motivated by protecting her mother. As she progresses in her studies, she is motivated by cultivating and honing her magic so that she can lock away the darkness inside her and protect those she loves. Eventually, however, she starts to see that there is a dark side to her new world.
While I do realize that this is the first installment of a new series, it felt like the book moved slower than I was expecting it to. I also felt like the discussions of magic in the classroom scenes didn't really make a lot of sense. For a book about a magic school, the general mechanics of the world were very confusing, and I had to reread those passages several times to understand what was happening. I found my brain trailing off in confusion because it just didn't feel very magical.
The story definitely gave mostly fish-out-of-water vibes. Quell, brought up on the run but leading an otherwise mostly normal life, spends the whole book trying to fit into a world that puts a lot of emphasis on status and image. She returns to her grandmother's house out of desperation and finds herself an heir to the position of matriarch (which was also confusing, because the book never explains why Quell's mother isn't, or can't be, the heir). While I am pretty sure many of the questions I had will be answered in subsequent books, it felt like there was still much to be resolved as I finished the story. For me, that is a frustrating thing.
Another unresolved thread was what really happened to Quell's mother after they got separated; there is a passing mention of her at the very end, but that felt mostly like a quick way to wrap up what is otherwise an open question throughout the book. Also, while I love good character development, there was often so much that the actual plot felt like a secondary concern. Again, I do feel like much of this was meant to entice you and build anticipation for the next book, but for me, it just felt like there was not enough information.
Overall, the book was enjoyable, but I cannot say it was a favorite or that I cannot wait to read the sequel. I think the one thing it does well is set the stage for subsequent books, and for that reason, I would probably give the second book a try before completely writing off the series. If the sequel does not start filling in some of the gaps, I would probably give up on the series. From the beginning of the book, you clearly get the sense that the author has a direction for this story, and despite any reservations I have about House of Marionne, I am intrigued to see where it will go.
A copy of this book was provided by the publisher, Razorbill, for review.