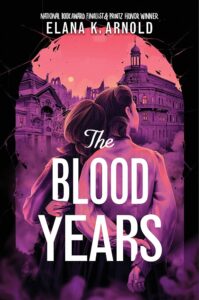 "I guess I thought I understood what it would feel like to have the Nazis come to my city. But I was wrong. There is no way to prepare for something like this."
—Frederieke Teitler, page 217
Inspired by the author's grandmother's experiences, The Blood Years, by Elana K. Arnold, is a beautiful and heart-wrenching story about a Jewish family's love, perseverance, and strength during the Holocaust, from the late 1930s to 1940s. The novel focuses on the Teitler-Fischmann family as they survive first the Soviet and then the Nazi invasion of their town, Czernowitz, Romania. The book is narrated by young Frederieke "Rieke" Teitler, who comes of age during one of the darkest moments in history. Alongside her opa, her mama, and her older sister, Astra, she endures hateful soldiers, yellow stars, murder, ghettos, illness, and abuse of power.
"I want to believe what Opa told me that day in the country: that our capacity to love is greater than their hate. But…is it? The hate the Romanians and Germans have for us is powerful. Their hate is enormous—as wide as the sky—but also so petty and small that it will go into the littlest room in a family's apartment, seek out the one scrap of delicate beauty, and destroy it."
—Frederieke Teitler, page 286
This book was beautiful and so deeply sad. As a Jewish person with a significant connection to Judaism, I've learned about the atrocities of the Holocaust since I was very young. And it has, unfortunately, become something I can be desensitized to. I've been to Auschwitz, Majdanek, and the Warsaw ghetto (and more places in Poland), and I was internally sorrowful but not as outwardly emotional as my peers. This book, however, made me cry. The way Arnold makes us cherish these characters, these very human characters, is incredible. As we watch these individuals love, make mistakes, feel sadness and pain, and so on, we fall in love with them. They were somebody's parents, children, doctors, plumbers, friends, family, clergy, and of course, grandmother. They were all important parts of someone's community; many unique lives, and families, were wiped out. Arnold masterfully tugs on our heartstrings with her wonderfully written cast.
"This is what we are here to do, my girl. To build, with love."
—Opa
Given that this is a Holocaust story and it comes with the territory, I will warn people that this book, while a fantastic read, is not an easy one. There is a lot of antisemitism, sexual assault, violence, death, and starvation. If you're sensitive to any of these topics, be aware that it is very overwhelming at times. However, this story is also deeply important, so read it if you are able. The experiences of individuals in countries outside of Germany and Poland aren't talked about as often, and this book helped me learn more about the Romanian Jewish experience. I'd urge anyone who lacks knowledge about this portion of history to read this book, and others like it. As sad as it is to read, it's history, and thankfully, we only have to choose to read about it. Millions of innocent human beings had to live it. May every one of their memories be a blessing. z"l (zichrono livracha, זיכרונו לברכה).
"This is what I know to be true: in many ways, the war has broken me. It has filled me full of illness, and hunger, and fear, and death. I have so many reasons to hate. And I do hate—I do. And yet…I did not expect to survive any of this. But here I am. Shell-shocked. Traumatized. Empty. Broken, in nearly every way. But I did survive. I am alive, somehow. And so, I must live."
—Frederieke Teitler, pages 370–371
A copy of this book was provided by the publisher, HarperCollins, for review.