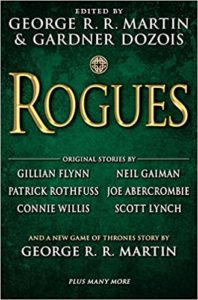 Rogues, out today, is a hefty short-story anthology featuring some of today's hottest names in science fiction and fantasy – Neil Gaiman, Patrick Rothfuss, Joe Abercrombie, Scott Lynch, Cherie Priest,– as well as top names from other genres, like Gillian Flynn. And, of course, a new story from the world of A Song of Ice and Fire from the reigning king of fantasy himself, George R.R. Martin, who edited this anthology along with Gardner Dozois.
I'll be honest – short story collections have never been my favorite thing to read, but so many of my favorite authors were contributing to this one that I couldn't stay away – and I wasn't disappointed! The twenty-one authors featured here have created rich, varied, and fast-paced worlds all centered around the idea of a rogue – a person whose motives are questionable, whose alliances are ever-changing, and whose life never has a dull moment.
Even at 800 pages, Rogues felt like a quick read as I jumped from world to world with each new story. Not only did I enjoy stories written by authors I already love, but relished the chance to sample the work of writers with whom I am not as familiar. What's more, I was delighted to discover hidden gems within this tome – a story that took place in East Tennessee, my home, one that took place in ancient times (which made me feel like I was putting my Classics major to good use!), and even one in which band geeks become petty criminals. I have a feeling I won't be alone in finding this hidden treasures – the scope of this anthology is vast, and though many of its biggest names are from the fields of SF/F, there are a slew of writers from other genres as well, and the stories vary from contemporary to fantastical to historical and beyond. Rogues is a book of unexpected delights.
Here are a few highlights:
"Provenance" by David W. Ball
I've never read any of David W. Ball's previous works, but I was completely captivated by this winding tale of the origins of a long-missing Caravaggio masterpiece. Bible-thumping preachers, Nazis, and a devious (sort-of) exterminator. What else could you possibly want?
"What Do You Do?" by Gillian Flynn
This tale may not be as bone-chilling as Flynn's internationally acclaimed Gone Girl, but it certainly packs in all the grittiness, intrigue, and plot twists that her writing is known for. A sometimes clairvoyant, sometimes, er, "customer service specialist" finds herself caught between two adversaries – one an easy mark, one a manipulative sociopath. If only she knew which was which…
"A Year and A Day in Old Theradane" by Scott Lynch
I'm a complete Scott Lynch fangirl, so it's no surprise that I really enjoyed this story. Rogues are something of a Lynch speciality, and I was thrilled to find that for this story the author applied his considerable talent to crafting a female protagonist (and one that doesn't disappoint!). Amarelle Parathis is a former thief who is on the straight and narrow until a powerful sorcerer forcibly enlists her for a near impossible heist – stealing a street.
"How the Marquis Got His Coat Back" by Neil Gaiman
Come on, how could anything Gaiman writes fail to be anything but utterly charming? The Marquis de Carabas from Neverwhere is back and I don't think I need to tell you anything else.
"Roaring Twenties" by Carrie Vaughn
A delightful romp that combines the roaring twenties with a clever magic system. I don't just want to hang out at The Blue Moon, the invisible speakeasy where magic-users hide from the feds, I want to be friends with protagonist duo Madame M and Pauline.
"The Meaning of Love" by Daniel Abraham
A fairly typical fantasy set-up – a prince in hiding protected by his lower-born best friend, a dashing fighter, and together they hatch a plot to rescue a beautiful girl. But in this version, the best friend is in love with the prince, though the prince doesn't know. A poignant, exciting, and even amusing read!
"The Lightning Tree" by Patrick Rothfuss
I can't *not* blurb this one both because Patrick Rothfuss is one of the biggest names in fantasy and because I'm a big fan. But I have to admit I had some issues with it. In "The Lightning Tree," Rothfuss returns to the world of Name of the Wind to recount a day in the life of Bast, a beloved character from his novels. The story itself is engaging, a fascinating look into Rothfuss's rich world, but with one very big problem – he only uses women as sexual props. There' really no other way around it – the women in the story exist solely to be lusted after by the men. It was disappointing to read from an author I love so well. I could go on, but then this would become a different article altogether.
"The Rogue Price, or, A King's Brother" by George R. R. Martin
George R.R. Martin's offering is a revealing bit of old family history for the Targaryen clan, recounting intrigues and alliances from years before the events in A Game of Thrones. If you enjoy his books, you'll love this bit of historical indulgence.
I'd blurb each of these stories if I could – even the ones I didn't like as well intrigued me in some way – but it'd really be much more efficient for you to read them for yourself! Other authors whose contributions I particularly enjoyed were Garth Nix, Cherie Priest, Matthew Hughes, and Steven Saylor.
If there's one flaw in Rogues it's that several authors utilize characters from novels they've published, and occasionally those can be hard to get into if you haven't read the author's other work. Most of the time, however, even when old characters are used, the stories are crafted in such a way that they're enjoyable even for a first-time reader. I highly recommend getting your hands on a copy!