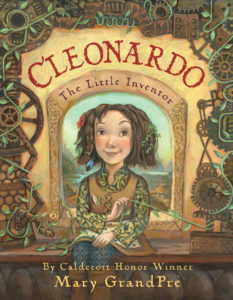 It's not often that we review picture books here on MuggleNet, but of course we weren't going to pass up the latest release from author and illustrator Mary GrandPré, who also illustrated the original US editions of Harry Potter. In Cleonardo, The Little Inventor, GrandPré tells the story of Cleonardo "Cleo" Wren, daughter of Geonardo, granddaughter of Leonardo, and the latest in a long line of inventors. The story is accompanied by GrandPré's peerless illustrations.
Cleo's father is always busy working on his next invention in his workshop, but no matter how many suggestions Cleo makes to try to help him, nothing seems to work out just right. With the town's annual Grand Festival of Inventions coming up, she's determined to craft a marvelous creation of her own to wow both the judges and her father. Meanwhile Geonardo, feeling bad for driving Cleo away, works on a creation inspired by the love he has for his daughter. In the end, it might just take both of their inventions to save the day!
GrandPré has crafted a sweet story in Cleonardo, The Little Inventor, but it's the illustrations that help the tale to truly shine. So much life and detail is added to the book through the visual medium, like the fact that all of Cleo's inventions are crafted out of natural materials, while her father builds his from metal and screws. The beauty of the illustrations brings the wonder of the story to life in a truly magical way. Consider this for the youngsters in your life who aren't quite reading on their own, especially if they have an interest in science or building things – or for the adults in your life who are suckers for beautiful picture books!
A copy of this book was provided by the publisher for review.