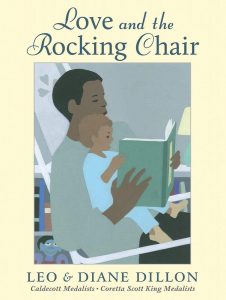 I was thrilled in 2018 when Scholastic released a new picture book from Diane Dillon, one half of my favorite artistic duo of all time. So you can imagine how I felt when I found out the publisher was going to release Love and the Rocking Chair, one final collaboration from Diane and her husband, Leo, illustrators extraordinaire and two-time winners of the prestigious Caldecott Award.
Leo and Diane had completed a manuscript, four sample paintings, and sketches for the entire book at the time of Leo's death in 2012. Love and the Rocking Chair is even more special because it tells the story of the Dillons' own family, beginning with the selection of a perfect rocking chair before the birth of their son and tracing the chair's importance to their family over the years.
It's a beautiful, simple story about parental love, made more poignant by the death of Leo partway through the story. (I can only imagine how it must have felt finishing this book, having to make that change to the manuscript.) Families who have recently lost a grandparent, either shortly before or shortly after a new child was born, may find this book particularly comforting. The couple in the book is also interracial, just like Diane and Leo, making Love and the Rocking Chair a great opportunity for mixed-race children to see themselves reflected in picture books.
As always, the artistic work of the Dillons is utterly captivating. The soft colors are gentle and evocative, and every page seems imbued with love. This is a very special book, one I highly recommend sharing with your family.
A copy of this book was provided by the publisher, Scholastic, for review.