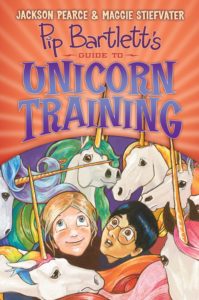 In the fun-packed sequel to Pip Bartlett's Guide to Magical Creatures, Pip and Tomas must help get the scaredy-unicorn Regent Maximus ready to compete in the Triple Trident show. As if that wasn't already hard enough, someone is sneaking into the show stables and cutting off the luxurious tails of Regent's competition. Can Pip solve the mystery and keep her unicorn friend from panicking?
Like the first book in the series, Pip Bartlett's Guide to Unicorn Training reads mostly like a typical realistic early-reader series. The difference, of course, is that Pip's world is full of magical creatures, and rather than worrying about spelling bees or being the new kid in town, Pip and Tomas deal with unicorns and griffins. It's a combination that I think works really well – kids can relate to the world of the book, but we also get the added fun of magic. Plus, in the wake of Fantastic Beasts and Where to Find Them, who doesn't need a few more beasts in their lives?
The best way I can describe this book is as a giggle-fest. It is an utterly silly, fantastical mystery, one that I think young readers will really enjoy. The creatures invented by Pearce and Stiefvater are impressive feats of imagination, and I enjoyed how this installment pairs magical beasts with the fun of local fairs and animal shows. If you're looking for a new series to share with a young reader, you could do a lot worse than Pip Bartlett!
A copy of this book was provided by the publisher for review.