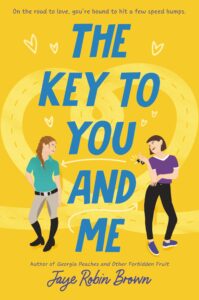 The Key to You and Me, by Jaye Robin Brown, is about Piper and Kat, two high schoolers spending the summer in a small North Carolina town. For Kat, this town is home – she knows everyone and they all know her, which makes it a little tough to act on the feelings she thinks she might have for girls. For Piper, this town is a chance to train with an Olympic equestrian and get away from her ex-girlfriend.
The novel alternates between each girl's point of view, which I really enjoyed. Kat provides the perspective of someone who is just starting to understand her sexuality, while Piper is proudly out and missing her ex. The girls are brought together by Piper's grandma, who asks Kat to teach Piper how to drive. I initially thought this would be a larger part of the book, but there is maybe a handful of driving scenes. Besides inner monologues, the book is mostly party scenes and discussions between Kat and her sister about her sister losing her virginity.
This book is a quick read, and I enjoyed it for the most part, but it wasn't as romantic as I thought it would be – the girls go back and forth about whether the other likes them or not, and nothing is really resolved until the very end. If you're looking for a book about what high schoolers do over the summer, then this is a good fit. I liked Kat and Piper as characters and enjoyed Brown's writing.
Plus, it's always nice to see queer characters featured in a book that would usually be written about straight characters. This is a solid novel that I'd recommend to anyone looking for a little summer fun.
A copy of this book was provided by the publisher, HarperTeen, for review.