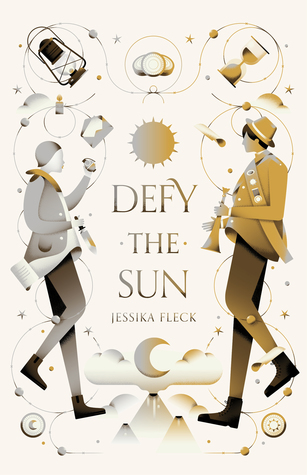 Defy the Sun concludes the story Jessika Fleck began in Beware the Night. Nico and Veda are placed on opposite sides of the war – Nico has returned to Raevald and retaken his place as Heir of Bellona (working as a double agent), while Veda becomes second in command of the Night. As the stakes get greater, Nico and Veda have to do whatever they can to bring peace to Bellona.
This book had highs and lows for me. I was very excited by the set-up of the book. I loved the idea that both main characters (the book alternates between Nico's and Veda's points of view) would need to work against and with a man they didn't like. Ultimately, this story worked better for Nico than Veda, for two main reasons.
Nico is on the side of the antagonist, so it's just naturally more interesting to read his story. You feel his pain as he's forced to announce the name of the next Offering, and you feel tension when he's sneaking around or having a loaded conversation with Raevald. (Additionally, the Sindaco was barely in this book, so Veda had very little to worry about with him.)
Fleck hasn't introduced a second love interest for Nico, which means his chapters are less internal monologue about romance.
For a book that's only about 300 pages, Veda's chapters are enormously about her love life (something I didn't love in the first novel either). She's mostly either thinking about the boys or talking or kissing one of them. Her chapters left me wanting more from the story in terms of plot and character.
They also left me a little confused on a few occasions. In many of her sections, she goes from speaking to Dorian to speaking to Dorian in a new location. They go from a conversation in her room to a conversation in his room or from a fight in the hallway to an immediate reconciliation in a different hallway.
Veda never had anyone else to speak to apart from occasionally thanking Bronwyn for baked goods, so it felt like she had to keep finding Dorian just so she'd have someone to talk with. Also, Veda's inner monologue is somewhat frequent and not that exciting to read.
Ultimately, that was my biggest disappointment with this duology. The mythology and politics of the world Fleck has created were so extremely interesting that I didn't feel the action rose to meet them. Very little happens in this book, particularly in Veda's storyline, and it's all wrapped up rather quickly.
I would have loved if this book were entirely Nico's story about how he has to live as the Heir. He draws his mother into the conflict in a way that made me want to read fanfiction about Narcissa Malfoy supporting efforts against Voldemort. I loved learning more about Salazar, Raevald's personal assistant (I couldn't help but picture him as Karan Soni from Miracle Workers).
Overall, I loved the world Fleck created, and I really did enjoy this book. I recognize that I'm biased toward epic worldbuilding and huge fantasy books. If you like fantasy and romance and love the idea of a succinct story, this is the perfect series for you. Beware the Night and Defy the Sun are fun, exciting, and quick reads. I absolutely recommend them to any YA fantasy fans out there.
A copy of Defy the Sun was provided by the publisher, Swoon Reads, for review.