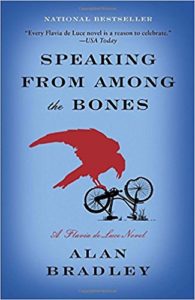 In the fifth Flavia de Luce mystery, a sleuth who is hardly 12 years old discovers her fifth corpse and, as usual, solves the crime. One would think word of her skills would have gotten around a village the size of Bishop's Lacey by now, and murderers would think twice about practicing their craft there. But when the crypt of a saint who has lain in the parish vault for 500 years is opened, Flavia's is the first snout poked into it. Naturally, the body she sees isn't old St. Tancred but young Mr. Collicutt, the handsome young organist.
As Flavia unknots her most complicated tangle of clues yet, she also faces more private puzzles. She approaches nearer than ever before the mystery of her brooding father, her two older sisters, and the family retainer Dogger. She learns more about her long-lost mother Harriet, whom she is told she resembles both inside and out. She gets to know the vicar and his wife in a new way, and she uncovers secrets her community has kept so well she never knew they existed. But naturally, as she gets closer to the killer or killers and whatever they were after, she also gets herself into ever deeper danger.
As an organist, I got a kick out of this mystery's tour of the innards of a pipe organ. It may also appeal to people who dig archaeology, revere ecclesiastical history, or (like Flavia) feel a fizz of excitement about chemistry, especially involving poisons. These all come together in a mystery full of haunting images and moving tragedies, narrated in the voice of a precocious child who attributes human feelings to her bicycle and who boils her pet hen's eggs over a Bunsen burner.
The rate at which I burned through this series testifies to how much I enjoyed it. These books have heart and brains. They have a substantial literary mouthfeel, yet they go down with a light cheering fizz. The next title in the sequence is The Curious Case of the Copper Corpse.
Interested? Buy a copy here.