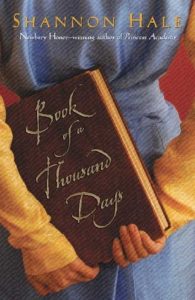 Not many books figure in the plot they contain. This book, written as a diary of a lady's maid named Dashti, begins when she and her mistress, the Lady Saren, are walled up inside a tower for a seven-year sentence of darkness and solitude. By the end, the book ends up being used as evidence in a trial for Dashti's life.
Welcome to an adaptation of the Grimm fairy tale of Maid Maleen. The simple version of the story is complex enough. The young lady is being punished by her father because she is afraid to marry the powerful but evil lord who wants to wed her. Then she orders her maidservant to impersonate her while a nicer young lord woos her, because she is too nervous to be courted even by him. The maidservant falls in love with the young prince, and he with her. But another princess's jealousy could spell doom for them all.
That's just the nugget at the center of this richly layered story. It also spotlights Saren's struggle with mental illness, the horrors of long-term abuse and neglect, the possibilities of a brand of magic based on singing, the traps and troubles of a layered society based on eight very exacting gods, and Dashti's rise from a common "mucker" girl with no clan to claim her to marrying the highest ruler in the realm. Also in the mix is a monster sometimes in human form and sometimes not.
Styled like a tale of ancient days in the part of the world I like to call "the Stans," this is a magical, romantic, and at times suspenseful tale from the author of the Books of Bayern quartet, the Princess Academy trilogy, the Austenland duo, and some of the Ever After High books, among other interesting titles.
Interested? Buy a copy here.