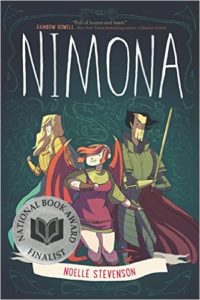 Originally posted on Tumblr, Nimona started off as a collection of web comics. The title character, Nimona, is a shape-shifter who buddies up with villain Lord Ballaster Blackheart. He's out to prove that Sir Ambrosius Goldenloin and the Institution of Law Enforcement and Heroics aren't the heroes that everyone thinks they are. As Blackheart and Nimona put their plans into motion, Blackheart begins to realize just how mysterious and troublesome Nimona is and that it may put them both in danger.
I really enjoyed this graphic novel! The art was more web comic than more traditional graphic novels, which is something I liked. It might not be everyone's style, though. I read it in e-book format online and on my Kindle; unfortunately, my Kindle is older so I could view it only in black and white. I definitely recommend purchasing the print text. The e-book is fine if you have a more up-to-date e-reader or view online like I did for most of it. It's due to be made into a film for 2020, so I'll be eager to see if the animation style matches the drawing style.
The plot and characters will really resonate in today's climate. Ultimately, it's a story of good versus evil (and what good and evil really mean) and about the characters' coming to terms with who they are and what they stand for. I especially liked that the characters didn't fit into their stereotypes of hero and villain. They flip-flopped and went outside the box. Nimona's character, in particular, didn't fit any mold. I mean, she's literally a shape-shifter, but she definitely brings chaos to the plot.
The setting for the book was also out of the norm. There are heroes and villains and knights, but Lord Ballaster Blackheart has a secret lab with all kinds of technology and chemistry equipment that reminded me of the villain's lair from the TV show Kim Possible. It's part past, part future, part fantasy, part science fiction. Overall, it really worked well together, and I think fans of many genres will find something to like.
You can read more about the author on her Tumblr HERE. She's also on Twitter @gingerhazing. If you like her art style, she also has some other short web comics and artwork on her blog that are worth checking out, including some pretty funny Lord of the Rings–inspired ones!