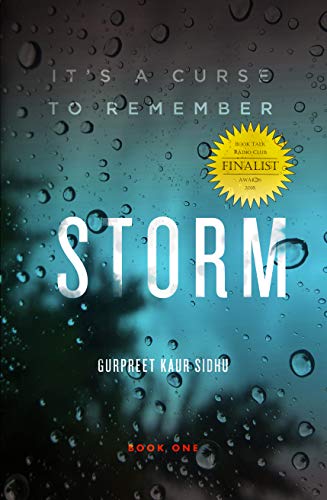 Storm: It's a Curse to Remember, by Gurpreet Kaur Sidhu, is unlike any book I've ever read before. And I'll be honest right up front – this is both good and bad.
Evan Storm suffers from recurring nightmares about a man named Derek. But these aren't your ordinary nightmares – they're visions from his past life, a life in which he was an abusive and angry monster. When he meets his new neighbor, Shadow (who looks exactly like Samantha, the wife he abused in a former life) and learns that she is on the run from an abusive relationship, Evan realizes that helping her break free from her abusive past will reconcile Derek's wrongdoings. Saving Shadow might mean the end of his own life, but it will break the cycle of abuse for both of them.
I will admit, this book was a little hard for me to get into at first. There are graphic descriptions of abuse, and that doesn't sit well with me. As a self-published (and therefore not professionally edited) book, some of the dialogue and wording left me reading passages twice or three times to make sure I understood what I was reading. But I powered through because the premise was really interesting.
The paranormal aspect of this book definitely pulled me through to the end. Following Evan as he tries to piece together the mistakes of his past – so they don't happen again – was a thrill. I was also drawn to Venice, Evan's clairvoyant grandmother. I wanted to know just how much her gift of sight showed her and if she had anything to do with the Evan/Derek timeline.
While I finished the book and would give it 3.5 stars, I don't think that it's something that everyone would read. It gets very graphic sometimes, so much so that there were times I thought about not finishing it. And there were a lot of questions left unanswered. This makes sense, as it's part of a series, but it didn't leave the sense of satisfaction one usually feels when finishing such a long book. I might pick up the next books as audiobooks if they're available – I feel like the story would come across better being read out loud to me.
Overall, this book has so much to offer. The characters aren't flat, the premise is unique, the pace is quick, and it really was a page-turner. If you're triggered by abuse, I would recommend skimming or skipping sections of this book, but if paranormal thrillers are your thing, definitely pick this one up!
Sidhu is currently writing the second book in this series and is aiming for it to be released at the beginning of 2020!
A copy of this book was provided by the author in exchange for an honest review.
A note from Gurpreet Kaur Sidhu:
"People suffer in silence. Some women don't think they can remove themselves from that toxic environment because they don't believe they're strong enough to do so. The other reason I decided to cover this topic is because I've been bullied/mentally abused and I've read that the pain a person feels of verbal abuse just the same as being physically abused. For me, writing what I've been through, seen, heard, this story has allowed me to grieve."