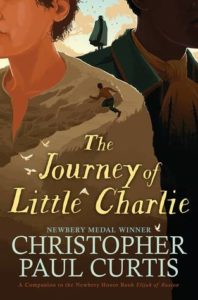 In The Journey of Little Charlie, Christopher Paul Curtis continues his perennially popular Buxton Chronicles (Elijah of Buxton, The Madman of Piney Woods) with the story of Charlie Bobo, a young boy conscripted into slave catching after the death of his father.
Cap'n Buck is known for being a violent man, so when he shows up pointing a pistol at Little Charlie and his mother, claiming Charlie's father owed him a debt, there isn't much question of Charlie accompanying him to Detroit to help catch some runaway slaves. As the son of a poor white sharecropper, Charlie has never given much thought to slavery or the people who suffer because of it. It's only once he witnesses Cap'n Buck's tactics firsthand that Charlie begins to question whether a person can ever be owned.
Unlike some middle-grade books about slavery, this book gets you close to the ugly – the racist views of Cap'n Buck and his violent recapture of a family of escaped slaves are stomach churning. Some parents may want to talk with their children about these scenes, but I believe they are a necessary part of children's education about slavery, especially for white youth. In the hands of a capable and sensitive author like Curtis, scenes such as these are vital for helping teach young readers how people could be complicit in slavery even if they didn't own slaves themselves. Charlie's gradual awakening and quest to set things right keeps the story hopeful and empowering.
Little Charlie is also a nuanced portrayal of the undercurrent of class tensions in the time of slavery. The book is told from Charlie's point of view and narrated through his South Carolinian dialect; when he first encounters Sylvanus Demarest, a black youth around his own age he's meant to help recapture, Charlie feels a spark of jealousy when he hears Sylvanus's refined speech. Tensions like this helped perpetuate slavery (and continue into the present day), and in order to help Sylvanus, Charlie has to relearn much of what he thought he knew about his place in the world. When it's all over, it's Charlie who will have to forge a new identity and start his life anew.
Watching Charlie come to terms with his own complicity is an important transformation for young readers to witness, and anyone who has treasured Curtis's novels in the past won't be disappointed.
A copy of this book was provided by the publisher for review.