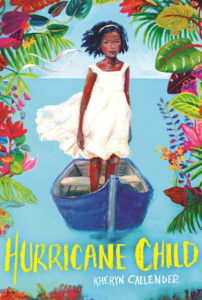 It's been a tough year for Caroline Murphy. Her mother left Caroline and her father months ago with no explanation, the mean girls at school have been even more cruel than usual, and she thinks she's being haunted by a mysterious spirit. There's a belief on the US Virgin Islands that being born during a hurricane – being a hurricane child – is a bad omen, and Caroline is starting to think it might be true. But when a new student, Kalinda, arrives from Barbados, Caroline is immediately smitten, despite knowing that girls aren't supposed to like other girls. Even so, Kalinda and Caroline become fast friends, and together they hatch a plan to find Caroline's mother.
I absolutely ADORED Hurricane Child! Author Kacen Callender, themselves a native of the US Virgin Islands, writes vividly and gracefully about St. Thomas and Water Island, the small island where Caroline lives. I was captivated every step of the way, from the description of young Caroline's fateful fall overboard – when she encounters the spirit for the first time – to Kalinda's enchanting smile. Every character feels genuine and complete, and (even at only 211 pages) the novel packs an impressive emotional punch. I honestly can't remember when I've read a middle grade novel this good, and I can't recommend it strongly enough to readers of all ages.
There are probably some people who might think that a same-sex crush, magical realism, honest treatment of mental health, and fractured families don't belong in a middle grade novel, but those people need to get their hands on Hurricane Child ASAP.
A copy of this book was provided by the publisher for review.