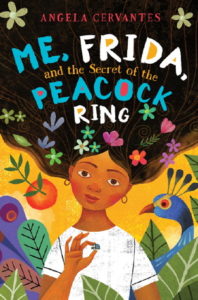 Paloma must be the only 12-year-old alive who isn't thrilled to be going to Mexico City for the summer – she's more disheartened at the thought of losing a summer with her friends back in Kansas than she is excited about spending a month in another country.
Soon after her arrival, however, Paloma realizes that things are going to be more exciting than she thought. She's almost immediately drawn into a mystery involving the great artist Frida Kahlo, and she leaps at the chance to follow in the footsteps of her favorite fictional detective, Lulu Pennywhistle.
Joining Paloma on her adventure are Tavo, the son of wealthy and influential cultural patrons, and siblings Gael and Lizzie, who first tell Paloma about Frida Kahlo's missing ring and the stakes involved in its retrieval. Between the four of them, there's plenty of tween drama at play between the clues.
This is a pretty cute mystery with a healthy dose of cultural exposure for young readers. It's a little overwrought by adult standards (Russia! trench coats!), but it has just the right amount of intrigue and ridiculousness to draw in aspiring young crime-solvers. It reminded me a little of Laura Max Fitzgerald's Under the Egg, but with a little more flair.
Me, Frida, and the Secret of the Peacock Ring is a fun story for young fans of either mystery or art!
A copy of this book was provided by the publisher for review.